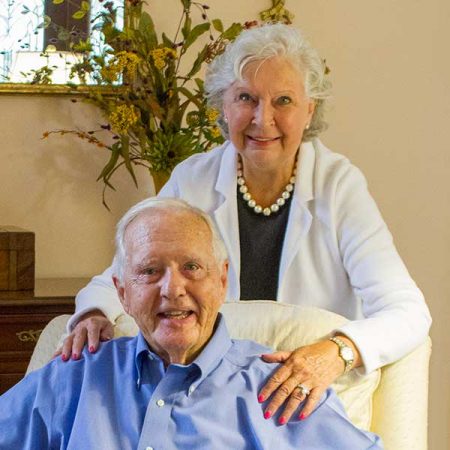 FSU Panama City has announced the largest gift in campus history, a $3 million planned gift from Bob and Judy Fleming.
Bob Fleming has named FSU Panama City as a benefactor in his estate to establish the Robert H. and Jacqueline K. Fleming Endowed Scholarship Fund. Jacqueline Fleming, Bob's late wife, was a teacher who valued education.
"Education makes all the difference in the world," said Bob Fleming, who earned his bachelor's degree in textiles from NC State University. He credited his college education with a successful career that spanned from apprentice to salesman to business owner. He also was integral in developing fabrics better equipped for athletic uniforms for well-known athletic companies, such as Champion, Wilson and Russell.
Judy Fleming, Bob's current wife, earned her bachelor's degree from Auburn University and worked as a flight attendant for American Airlines.
Although the couple have no direct affiliations with Florida State University, they said they have always been fans of FSU and wanted to give back to the campus in their local community.
"This gift is to help our community and the people in the surrounding area who really want an education and need a little support," Judy Fleming said. "We want to help deserving students who need it and would be appreciative of it."
The Fleming scholarship fund has the potential to provide financial aid to up to 80 students annually with preference given to first-generation college students.
"Providing affordable access to a quality education is a priority at Florida State, and this generous gift from Bob and Judy Fleming will help change the lives of many talented and aspiring students," said Tom Jennings, vice president for University Advancement and president of the FSU Foundation. "This gift from the Flemings — who are not alumni of Florida State — illustrates the strong support our Panama City campus has within the community."
The announcement, which is part of Florida State's $1 billion Raise the Torch campaign, comes during Dean Carol Edwards' last week leading the Panama City campus.
"I am so happy to have been a part of this transformational gift to FSU Panama City," she said. "The Flemings are such dear people with a sincere desire to help deserving students achieve the dream of a college degree. Their generosity will help students for generations to come."
Incoming Interim Dean Randy Hanna said the gift will help the campus draw more students who otherwise might not be able to afford college.
"I recently had the pleasure of thanking the Flemings for their generous commitment to the campus," Hanna said. "Being a first-generation student myself, I appreciate that this scholarship will serve this particular student population, allowing FSU Panama City to grow and better meet the financial needs of our students. A gift like this sets us up for a bright future, and I look forward to working with the Flemings to continue to meet the needs of our students."