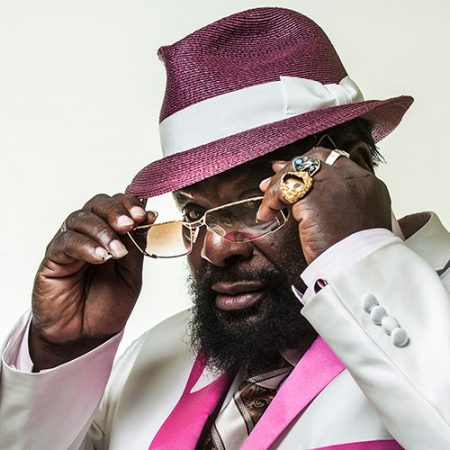 An entire world of musical sounds and sights will be on display as the Florida State University College of Music presents the 20th annual Rainbow Concert of World Music at 8 p.m. Monday, March 21, at Ruby Diamond Concert Hall.
This Tallahassee springtime tradition regularly features performances by a number of the college's world music ensembles, and this year's Rainbow Concert is sure to delight fans of all kinds of music as legendary funk icon George Clintontakes the stage alongside the College's world music ensembles.
Clinton — founding member of the Parliament-Funkadelic rock music collective — is the undisputed King of Funk and has effectively defined the genre and remained at its helm for more than four decades.
Clinton has influenced everyone from the Red Hot Chili Peppers to Jay-Z and Beyoncé, and his music has been sampled by virtually every major hip-hop artist. Now it's time for Clinton to reinvent world music, and he has chosen FSU's nationally renowned World Music program as his partner.
This Rainbow Concert will be the first time that this musical master and the College of Music have officially collaborated, and the evening promises to provide a stunning fusion of musical traditions and bold ventures in intercultural music making.
Arrangements of Clinton's music — including well-known songs such as "Funkentelechy" (1977) and "Atomic Dog" (1982) — have been prepared for the Gamelan and Omnimusica ensembles by Michael Bakan, professor of ethnomusicology at the College of Music, and P-Funk music director and keyboard player Daniel Bedrossian.
Other gems from the Clinton songbook will be reinterpreted by the Old Time Ensemble, Blues Band and Rock Ensemble. FSU's popular steel band, Mas N Steel, along with its Chinese, Andean, Irish and African music ensembles, will also figure prominently in the performance.
Tim Storhoff, ethnomusicologist and arts consultant at the Florida Division of Cultural Affairs, will help frame the experience with a pre-concert lecture on the music and legacy of George Clinton that begins at 7 p.m. in Rehearsal Hall, Room 060, Westcott Building.
This event is for all ages. Tickets for this performance are $10 general admission and $5 for students and are available through the College of Music Box Office at (850) 645-7949.