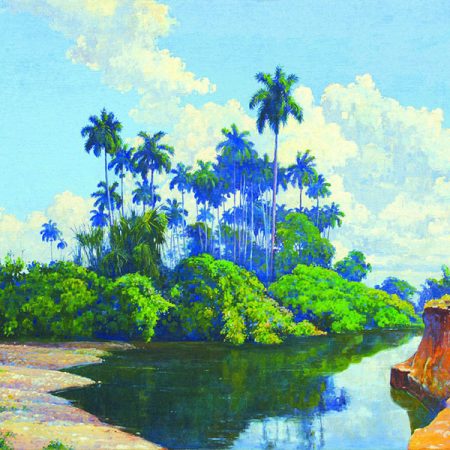 Florida State University's Museum of Fine Arts will give the Tallahassee community a glimpse into Cuban culture with a major art exhibition beginning Friday, Feb. 12, through Sunday, March 27.
The exhibit, "Cuban Art in the 20th Century: Cultural Identity and the International Avant Garde," will feature works of artists past and present, celebrating Cuban landscape, history, mythos and a rich and varied aesthetic that is as individual as each artist. Segundo J. Fernandez — a Tallahassee attorney, art collector and doctoral candidate in art history — is the guest curator of the exhibit.
"There is an amazing excitement about Cuba as a destination right now," said Allys Palladino-Craig, director the Museum of Fine Arts. "Part of the energy has been the warming relations between the United States and Cuba, but Curator Segundo J. Fernandez was prescient when — over two years ago — he proposed this exhibition and he, art historians Juan Martinez and Paul Niell, and the museum began work on Cuban Art in the 20th Century."
More than 100 works from private collections in Florida have been organized and assembled through the generosity of Director Ramón Cernuda and his staff at Cernuda Arte for MoFA's exhibition.
"Our enthusiastic gratitude goes to Ramón Cernuda," Palladino-Craig said. "He and his staff organized over 100 incomparable Cuban art works from private collections so that we could share them here. Everywhere, there is tropical light, lush vistas and intriguing scenes of daily life and vivid color. The rarity of this beautiful selection of paintings and sculptures make this an exceptional experience."
Visitors will have a glimpse inside Cuba's culture and the modern art that emerged, starting in 1927 Havana and developing over the next 20 years. Some of the leaders in the "First Generation" of artists, such as Victor Manuel Garcia, Amelia Peláez, Carlos Enriquez and others, brought their visions to life in a time when the country was in political disorder and economic depression.
An opening reception will take place from 6 to 8 p.m. at the Museum of Fine Arts, 530 W. Call St. As a part of the exhibition, the museum will host a lecture and colloquium on the topic of Cuban art. These events will take place:
Tuesday, Feb. 22, 7–8 p.m., Fine Arts Building, Room 249
Lecture: Juan Martínez, professor emeritus, Florida International University, will lecture on the era of Modern Cuban Art. His essay introduces artists of the period in the catalogue of the exhibition.
Wednesday, Feb. 23, 3–5 p.m., Fine Arts Building
Colloquium: A panel will discuss the global contexts of Cuban art through the intersections of law, cultural patrimony, the international art trade and collecting, with a focus on U.S.–Cuban relations in the 20th century. Panelists will include Michael Carrasco and Preston McLane from the FSU Department of Art History, Fernando Tesón from the FSU College of Law, and leading expert on Cuban art Ramón Cernuda, director and CEO of Cernuda Arte in Coral Gables, Fla.
The exhibit and all events are free and open to the public. The museum is open from 9 a.m. to 4 p.m., Monday through Friday, and from 1 to 4 p.m. Saturday and Sunday. The museum will be closed Saturday, March 5, and Saturday, March 12.
The exhibition was made possible by support from the Council on Culture and Arts of Tallahassee/Leon County and the Arts & Humanities Enhancement Program of Sponsored Research at Florida State.