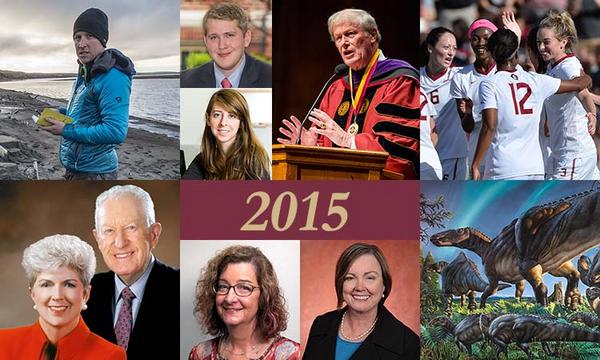 It was a banner year for Florida State University. The university received the largest gift in its history and selected a new provost. Our faculty members produced some remarkable research, our students were honored with national awards for their success and our athletics teams continued their tradition of competing at the highest level of intercollegiate sports.
Here is a compilation of some of the university's top stories of 2015.
FSU receives $100M to create the Jim Moran School of Entrepreneurship
The university received the largest gift in its history — $100 million — from Jan Moran and The Jim Moran Foundation to honor the late Jim Moran and create what will be the nation's largest interdisciplinary, degree-granting school of entrepreneurship. The Jim Moran School of Entrepreneurship will stand alone, greatly expanding the entrepreneurship courses currently taught in the College of Business and making them available to all FSU students. FSU President John Thrasher called the gift "transformational" and said entrepreneurial education in Florida and across the country will never be the same.
University inaugurates Thrasher
"My heart is truly full today as I am given this opportunity to serve the university that I love," President John Thrasher told the campus community and special guests during his presidential address March 17. The university celebrated the inauguration of Thrasher as its 15th president during a formal investiture ceremony at Ruby Diamond Concert Hall.
McRorie named provost
President John Thrasher announced Nov. 24 the selection of Sally McRorie as the university's provost and executive vice president for Academic Affairs following a rigorous national search. McRorie had served as Florida State's interim provost since Dec. 5, 2014, leading up to her permanent appointment to the position. "It is truly an honor to be chosen as the provost for Florida State, a university that I know well," McRorie said. "My academic home for 21 years is on a great trajectory of success and recognition. I am very grateful for the opportunity."
Researchers discover new dinosaur in the Arctic
FSU Professor of Biological Science Greg Erickson and researchers from the University of Alaska Fairbanks uncovered a new species of duck-billed dinosaur, a 30-foot-long herbivore that endured months of winter darkness and probably experienced snow. The skeletal remains of the dinosaurs were found in a remote part of Alaska. These dinosaurs were the northernmost dinosaurs known to have ever lived. "What we're finding is basically this lost world of dinosaurs with many new forms completely new to science," Erickson said.
FSU recruits leading physicist to help shape future of MagLab
Internationally renowned physicist and National Academy of Science member Laura H. Greene was introduced as the new chief scientist for the Florida State University-headquartered National High Magnetic Field Laboratory (MagLab). The position is critical to the advancement of magnetic field research. "This is a very exciting hire of a highly regarded condensed matter experimentalist who will bring new perspectives and new visibility to the scientific achievements of the MagLab and its user program," Greg Boebinger, director of the MagLab."
Stellar students earn prestigious national awards
FSU students continue to garner national recognition for their academic achievements. Daniel Hubbard, a former Army medic from Tallahassee, was named a 2015 Truman Scholar, a prestigious national award given to college juniors who seek to improve their communities through public service. The psychology major was one of 58 Truman Scholars and the only one from Florida.
Molly R. Gordon, a junior biology major from Hollywood, Fla., received a prestigious Goldwater Scholarship, awarded to the nation's brightest mathematics, science and engineering college sophomores and juniors. Gordon was one of 260 students nationally to receive the honor.
FSU research and our environment
Two research studies focusing on the environment released in 2015 gained significant media attention. Assistant Professor Robert Spencer published a paper about what happens to organic carbon when glaciers melt. "It could change the whole food web," Spencer said. "We do not know how different ecological systems will react to a new influx of carbon."
Professor of Oceanography Jeff Chanton's research of the BP oil spill found that some 6 million to 10 million gallons are buried in the sediment on the Gulf floor, about 62 miles southeast of the Mississippi Delta. "This is going to affect the Gulf for years to come," Chanton said.
An Exceptional Year for Women's Athletics
It was an excellent year for Seminole athletics, especially for our women student-athletes and teams. The women's basketball team advanced to the Elite Eight for the second time in program history and the women's soccer squad made its fifth consecutive appearance in the Women's College Cup. The softball and volleyball teams also made NCAA postseason appearances, while Kala Funderburk (400 meters) and Colleen Quigley (steeplechase) won national titles at the NCAA Outdoor Track and Field Championships. Quigley went on to be named one of nine finalists — and one of three from Division I — for the NCAA Woman of the Year Award.
Dance Marathon Tops $1 Million Fundraising Goal
Dance Marathon, Florida State's largest student-run philanthropy, surpassed its goal to raise $1 million at its 20th annual event Feb. 27-March 1. More than 1,800 students participated in two shifts at the 40-hour event that raised a record $1,100,645.52 — a 28 percent increase over last year's grand total. The annual event raises funds to support Tallahassee's local Children's Miracle Network hospital and the FSU College of Medicine's Pediatric Outreach Programs. "We're standing for those that can't," said Jenna Jackson, executive director of Dance Marathon. "We're standing for the children who are sick or in need of medical care."