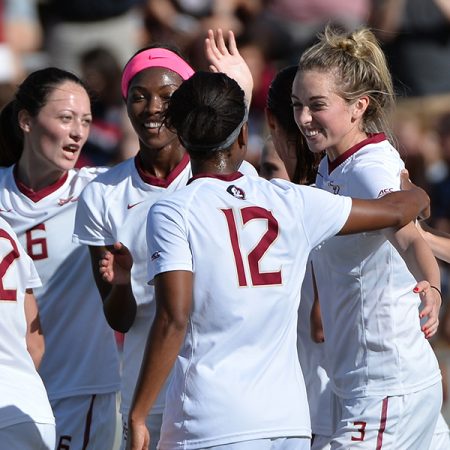 It's an amazing accomplishment to earn one trip to the NCAA Women's College Cup. The Florida State women's soccer program has achieved the feat for five consecutive years.
The Seminoles will compete in its fifth straight NCAA Women's College Cup beginning with a semifinal match against Duke at 7:30 p.m. Friday, Dec. 4, at WakeMed Soccer Park in Cary, N.C.
Florida State's five consecutive Women's College Cup appearances are tied for third on the NCAA's all-time list.
Since 2003, FSU has advanced to the College Cup nine times — the most by any team in the nation during the stretch. FSU's nine trips to the semifinals ties UCLA for the fourth-most appearances in NCAA history behind North Carolina (26), Notre Dame (12) and Santa Clara (10).
The Seminoles have enjoyed recent success at WakeMed Soccer Park. FSU captured the 2015 ACC Tournament Championship trophy at the same venue, earning a thrilling penalty kick victory over Virginia on Nov. 8. But there is sure to be a strong Duke contingent at Friday's match.
"I would say our confidence is pretty good, but we also know we are going into a different environment," said FSU head coach Mark Krikorian. "We've been playing on our nice, big, beautiful field, with our friendly crowd. And now we're going to play in North Carolina — in Duke's backyard — and they can call it a neutral game, but I don't know how neutral it is being 20 minutes from their campus."
Florida State boasts an exceptional defense that has recorded 15 shutouts this season, including four against Evansville, South Alabama, Auburn and Texas A&M in NCAA Tournament action. In fact, the Seminoles have not allowed a goal in their past 10 NCAA postseason games (900 minutes), a streak that dates back to last year's first round and is an NCAA record. FSU also ranks eighth in the nation with a 0.522 goals against average.
The Seminoles are talented on the other end of the field, too. Florida State is averaging 2.67 goals per game — the fourth-best scoring offense in the nation. Freshman midfielder Megan Connolly leads FSU with 28 points on nine goals and 10 assists this year, while senior Cheyna Williams has contributed 10 goals and seven assists to the Seminoles' attack.
"The defending has been pretty good throughout the course of the season," Krikorian said. "And in the attack, I think when you can score a bunch of goals, it makes life a little bit easier."
Penn State and Rutgers will play in Friday's first NCAA semifinal at 5 p.m. ET. If Florida State defeats Duke, the Seminoles will advance to play in Sunday's championship game at noon against the winner of Penn State-Rutgers.
Both semifinal contests and the national championship match will be broadcast live on ESPNU. Tickets for the 2015 Women's College Cup are available at NCAA.com.
For more information on Florida State women's soccer, visit seminoles.com.