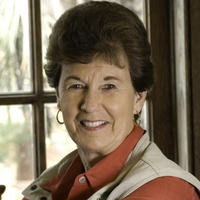 Florida State University classics Professor Nancy de Grummond, one of the nation's leading scholars of Etruscan studies, has been named this year's recipient of the Archaeological Institute of America's Excellence in Undergraduate Teaching Award for the invaluable service she has given to the archaeological community as an educator.
De Grummond, the M. Lynette Thompson Professor of Classics and a Distinguished Research Professor at Florida State, will receive the award during the annual meeting of the Archaeological Institute of America in New Orleans on Friday, Jan. 9.
The award, which is the only teaching award given in the field of classical archaeology, is the latest recognition in de Grummond's distinguished career, according to Daniel J. Pullen, professor and chairman of Florida State's Department of Classics.
"Besides being a distinguished scholar in the field of Etruscan and Roman archaeology, Nancy de Grummond is a highly regarded teacher here at FSU," Pullen said. "In 2008, she was named a Distinguish Research Professor, an award that normally goes to researchers in the sciences, and she is a three-time recipient of a University Teaching Award."
In addition, de Grummond received the inaugural Excellence in Teaching Award in 2010 from the university's Phi Beta Kappa chapter, which is the Alpha Chapter of Florida.
Every summer since 1983, de Grummond has taken groups of undergraduate and graduate students to the excavations at Cetamura del Chianti, Italy, that she directs. A number of undergraduate honors theses have resulted from students' participation on the project, and a great number of the undergraduates have gone on to do advanced work in archaeology at the graduate level.
"It is difficult to think of a better or more effective way to teach undergraduate students than by involving them directly in research as Nancy does," Pullen said. "These students are not just doing grunt labor as is so often the case with undergrad 'research projects' — no, they are involved in the actual research itself, making valuable contributions to the field. This is teaching at its best."
One of the most exciting projects undertaken by de Grummond, according to Pullen, is her involvement of undergraduates in research on the decipherment of ancient scripts. Since 2009, de Grummond has regularly met with undergraduate students to work on the International Etruscan Sigla Project. Students learn not only about Etruscans and their language, but also how to present papers, design posters and apply for funding.