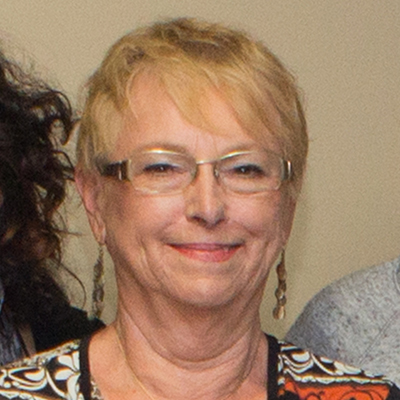 With slices of cake and the smiles and best wishes of a group of College of Motion Picture Arts students and colleagues, Meryl Warren celebrated her 50th work anniversary at Florida State University — to the day.
Warren, the director of alumni for the college also known as the Film School, started work Oct. 14, 1964, in the special education department of the university's School of Education.
"Mode Stone was the dean and he was the person who hired me," Warren said. "A few years later in 1969, the department became part of the College of Communication. I worked there for 20 years, and as secretary to Dean (Theodore) Clevenger."
Back in those "good old days," Warren remembers a campus that seemed more like a small, friendly town.
"You knew almost everyone on campus, and you knew the people who could get things done," she said. "You could just pick up the phone or walk into an office and say, 'I need help with this,' and it just happened."
Though Florida State's campus has grown since her early working days, Warren says it's still important to get to know people on campus.
"It's just a joy to work someplace where people know the value of staff," she said. "I've never been a faculty member. I don't have a college degree. So I'm very fortunate to have been able to grow in an academic institution that values people."
Linda Hensley first came to know the value Warren places on people when Warren stepped in to assist Hensley as a communication student at Florida State in the 1980s.
"I had been misinformed by an academic adviser, and it came down to me wondering whether I would graduate," said Hensley, who now works as chief of staff in the Office of the Dean of the Film School. "People were telling me, 'Go see Meryl, she'll make everything OK.' And she did. Little did I know that six years later I'd be working with her."
In 1989, a new opportunity came knocking on Warren's door. That year, the university established the Film School and, as Warren says, she just happened to be in the right place at the right time to join the new educational venture.
Warren's experience gained during her first 25 years working at Florida State was critical to the successful administration of the fledgling college, according to Hensley.
"I didn't know anything about film, but I knew how the university worked," Warren said.
Warren worked in the Film School's administration for the next 11 years before retiring in 1999 with 33 years of service.
"I worked OPS for year while they figured out how to hire me again," she said. "Then I went back into my same position the following year. About 10 years ago, I started working on a half-time basis. Now I'm working in my own little corner, so to speak, doing alumni relations."
Today, Warren is almost as synonymous with the college as its award-winning student films. Working as the college's director of alumni, she keeps the college's alumni base connected with the cleverly named Warren Report, her weekly newsletter that is emailed to 2,500 alumni and friends of the Film School.
"I report on marriages and babies and new jobs and new films and all sorts of things that help keep our alumni cohesive," she said.
Warren's work in keeping the Film School's alumni connected extends to pairing current film students with alumni now working in the industry.
"Because of her knowledge, experience and finesse, Meryl is able to give these student/mentor pairings that custom fit," said Amy Larson, assistant to Film School Dean Frank Patterson. "She knows every Film School class personally. We absolutely have the best alumni director. She's fabulous."
One perk of Warren's job is getting to travel to New York and Los Angeles for the college's annual screenings of alumni films. The trips feel more like family reunions, with groups of as many as 200 alumni attending. Though Warren might claim email as the reason for the Film School's tight-knit alumni, that explanation is only part of the story.
"It all comes down to the heart that Meryl Warren has for the university and the people who are here," Hensley said. "That is why she can sustain for 50 years."
Warren said it best: "I know every one of them. They are all my kids!"