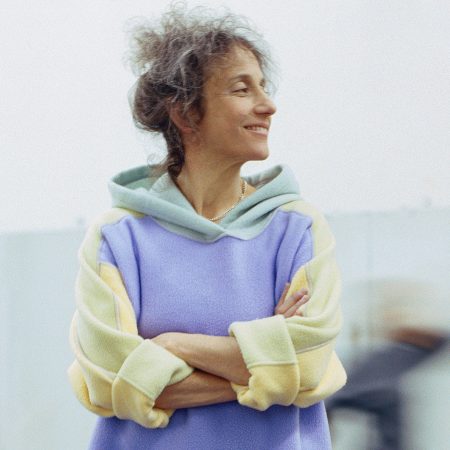 Florida State University student-veterans and faculty have lent their expertise and stories to a modern dance work that examines how we heal ourselves, individually and collectively, during and after war.
Iconic choreographer Liz Lerman's "Healing Wars" was developed during two residencies at Florida State's Maggie Allesee National Center for Choreography (MANCC), and will premiere at Washington, D.C.'s Arena Stage June 6-29.
An informal showing of the MacArthur fellow's new work will take place on the FSU campus at 12:30 p.m. Monday, May 12, in Montgomery Hall's Black Box Theatre. Reservations are required; email info@mancc.org to reserve a seat.
"Healing Wars" touches upon American conflicts from the Civil War to the wars in Iraq and Afghanistan, and its cast includes six professional dancers, a former Marine and actor Bill Pullman of "Sleepless in Seattle," "While You Were Sleeping" and "Independence Day" fame.
The work is highly collaborative and makes use of text, sound, lighting, stage design, costume and multimedia projections to tell its moving story.
To help inform "Healing Wars," Lerman met with Chad Zeng, an assistant professor in the FAMU-FSU College of Engineering who leads a team that has been awarded $4 million by the U.S. Department of Veterans Affairs to advance the functionality of prosthetic limbs.
Lerman also spoke with Col. Billy Francis, director of FSU's Veteran Center, about the needs of veterans as they return to civilian life as students; Kristine C. Harper, an associate professor in FSU's History Department and a retired Naval Commander, about her experiences as a female commissioned officer; and FSU student-veteran Heather Barta, among several others.
Barta, who graduated this month with a master's degree in social work, is a member of the FSU Collegiate Veterans Association and a sergeant in the North Dakota National Guard. She served in Iraq from 2007 to 2008 as part of a security forces company and then was deployed to Kosovo from 2009 to 2010 as part of a liaison monitoring team.
She volunteered to work with Lerman and the "Healing Wars" cast.
"I was able to share my story of how my family reacted to my deployment and share with the performers the different mannerisms and postures I held while deployed," Barta said.
Barta specifically shared with the cast her experiences of being a woman in a combat zone and of telling her mother she was deploying to Iraq.
"My mom is my best friend, and that was one of the hardest things I've ever done," Barta said. "I've never really shared the details of that moment and to bring it to life for them was therapeutic for me."
"Healing Wars" is "life-like" due to the authentic stories told by those involved in its creation, Barta said.
"The performance hits home for me, and I wanted to be able to give the performers accurate information so that other veterans who see the performance — and civilians alike — have the same 'hitting home' response I did."
MANCC, housed in the FSU School of Dance facilities, is the only national center for choreography in the world located in a major research university. The center serves as a catalyst for choreographic development by supporting visiting choreographers through multiweek research and development residencies.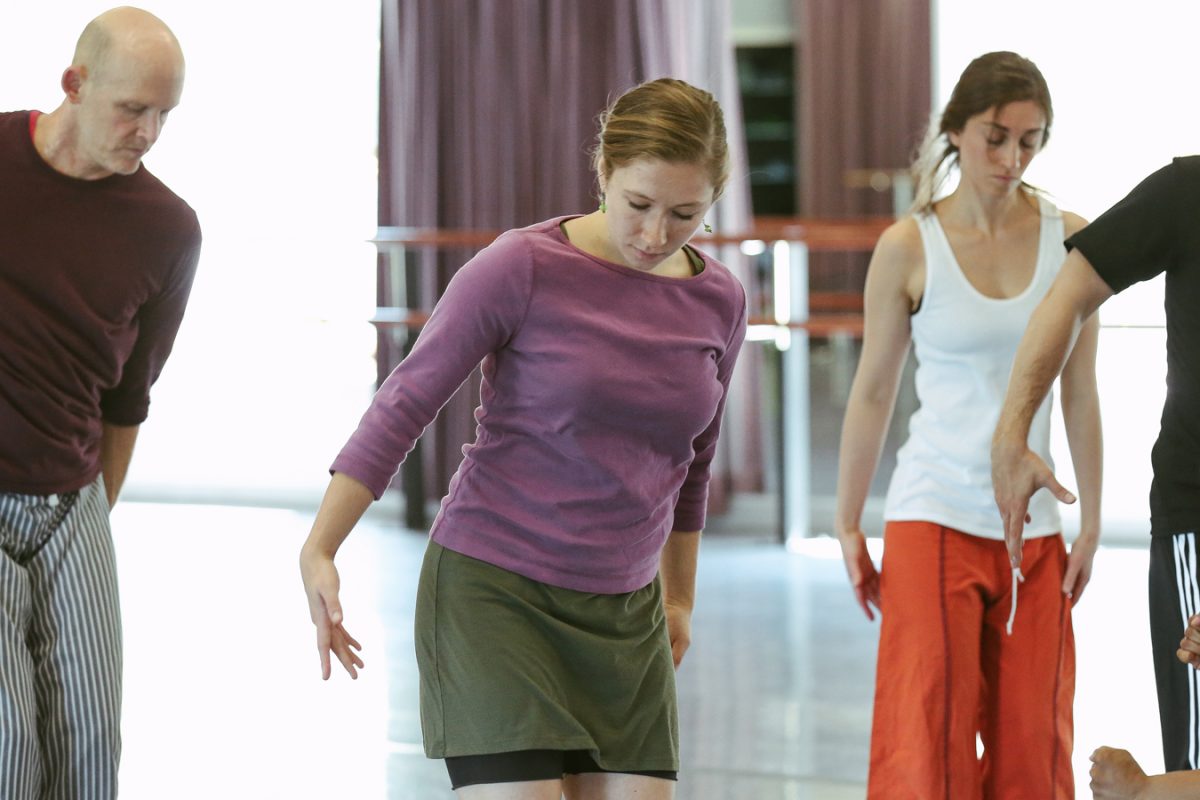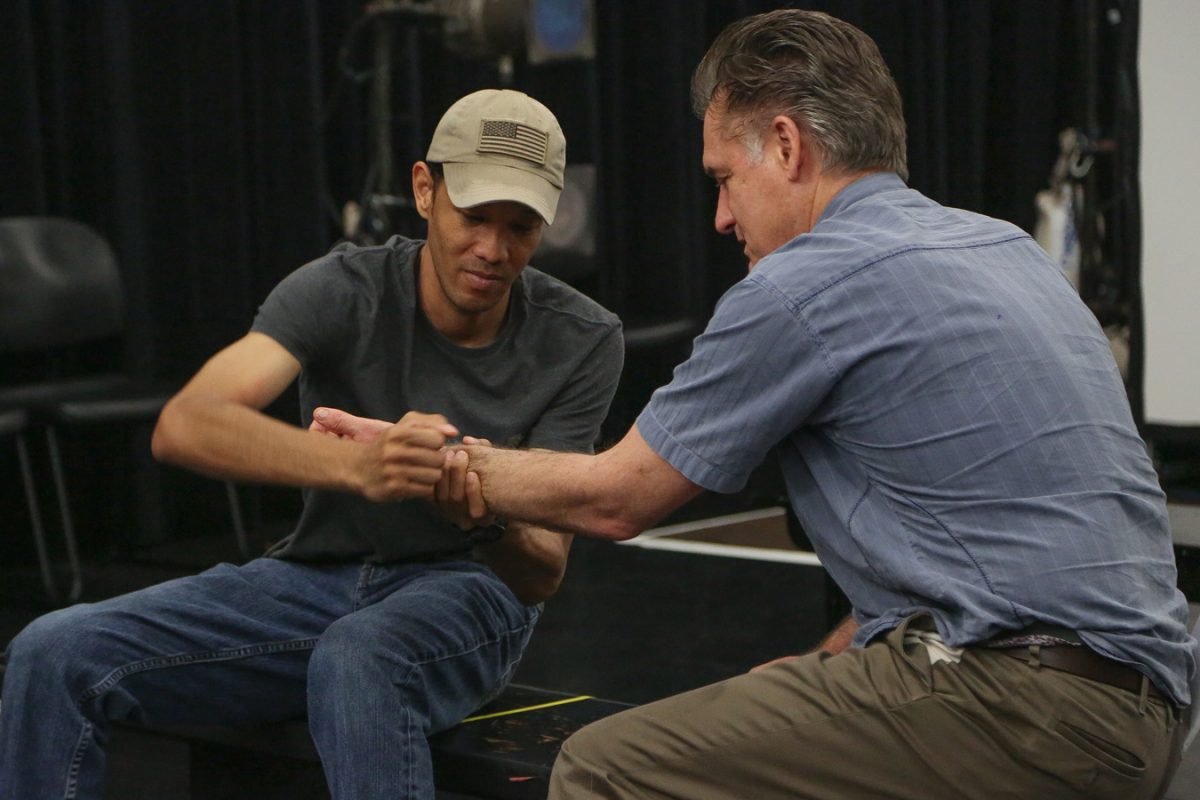 "We are so pleased to have had Liz with us for multiple residencies, creating this moving work that speaks to issues important to our student-veterans and all those affected by war," said MANCC director Carla Peterson.
The MANCC residencies have deeply influenced "Healing Wars," Lerman said.
"Beyond the obvious benefits of having a supportive team, space and time to create this large-scale work, the content of the piece was informed by our time with local veterans, students and community members whose lives were altered by the war in Iraq," Lerman said.
Florida State's involvement will continue into the future, as Lerman has invited FSU's Emily Wolfe to be an understudy in "Healing Wars" and to attend the Washington, D.C., premiere as her production assistant.
Wolfe graduated from Florida State's School of Dance earlier this month. She served as Lerman's rehearsal assistant during the choreographer's first residency at MANCC. Wolfe worked closely with the cast of "Healing Wars."
"Working with Liz has truly been a life changing experience," Wolfe said. "Seeing how deep her process is— all the research and interviews with real people — is inspiring and shows a sense of humanity."
MANCC's unique mission has shown Wolfe how collaboration succeeds.
"Seeing a MANCC artist's process has opened my eyes to ways of creating dance," she said. "Meeting Liz through MANCC has given me a connection to an important artist in the world who I would not have been able to meet on my own."
Lerman founded Liz Lerman Dance Exchange, based in Takoma Park, Md., in 1976 and led the contemporary dance ensemble until 2011. She was an artist-in-residence and visiting lecturer at Harvard University in 2011, and continues to teach nationally and internationally from Scotland to Australia.