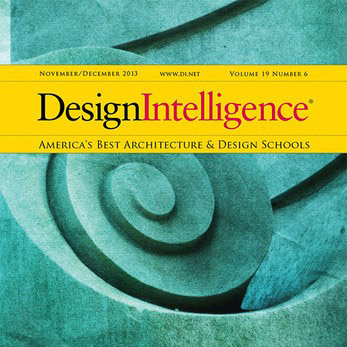 The graduate program of Florida State University's Department of Interior Design has been ranked the No. 1 "Most Admired" program of its kind by DesignIntelligence, topping hundreds of interior design schools across the country.
This is the second consecutive year the graduate program has been named No. 1. Deans and chairs of higher education interior design and interior architecture programs vote in the most admired category.
"We have excellent students and we have a devoted faculty," said Lisa Waxman, professor and chair of Florida State's Department of Interior Design. "It takes time and mentoring to guide a master's student, and we have faculty who are dedicated to their success."
The annual survey also ranked Florida State's undergraduate interior design program the No. 5 most admired by deans and chairs.
DesignIntelligence ranks higher education programs of architecture, interior design, landscape architecture and industrial design. The bi-monthly journal is published by the Design Futures Council, a network of design, product and construction leaders.
DesignIntelligence rankings are valued by those in the industry, Waxman said, and prospective students pay attention to the annual list.
The interior design program, housed in the College of Visual Arts, Theatre and Dance, has long been a strong one, Waxman said. And the move into the newly renovated William Johnston Building in 2012 has made recruiting students that much easier.
Faculty and students are very active in the Interior Design Educators Council, another aspect of Florida State's program that makes it outstanding, Waxman said.
"We excel in getting students involved in the organization, the largest of its kind in North America. We typically have more students presenting at national conferences than other programs."
The Department of Interior Design offers a Council for Interior Design Accreditation (CIDA) accredited undergraduate curriculum and master's studies for the First Professional, Advanced Professional and Master of Fine Arts student.
The curriculum prepares students to work in interior design firms or as interior designers in architecture firms as well as in a number of other design-related settings.