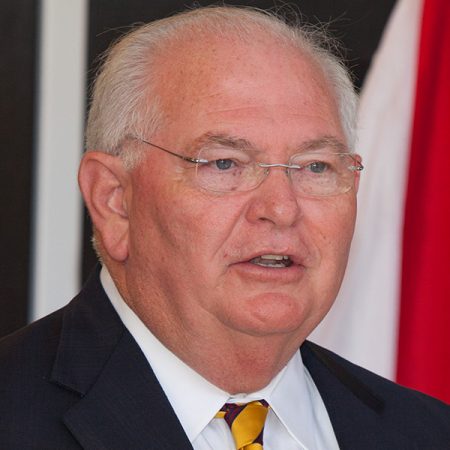 Florida State University paid tribute to one of its former vice presidents when it named a newly acquired building that will house art studios and workshops in honor of the late John R. Carnaghi.
Carnaghi, who died in February after serving as senior vice president for Finance and Administration for 22 years, was known for his leadership, integrity and innovation. He was instrumental in acquiring the former Belle Vue Middle School from the Leon County Public School System to be used as a studio and workshop space for Florida State's College of Visual Arts, Theatre and Dance.
President Eric J. Barron was joined by College of Visual Arts, Theatre and Dance Dean Peter Weishar, state Sen. Bill Montford and members of the Carnaghi family at the Oct. 24 dedication ceremony.
"We're here at this expansive facility for the arts as a result of the hard work and the vision of John Carnaghi," Weishar said. "Great things will be accomplished here. Inspiring and beautiful work will be produced within these walls. Our students now have an incredible space to create, innovate and collaborate and that will help FSU continue to grow as a leader in the arts."
Carnaghi worked diligently to acquire the building so that the various art studios and workshops, which had been located in several rented facilities around town, could be brought together under one roof, according to Barron.
"That was no way to create the right kind of environment for faculty and students, especially for such an exceptional program, so John took it upon himself to fix it," Barron said. "And he set a goal of having this school turn into that facility where everybody could be in one place."
Carnaghi served as senior vice president for Finance and Administration from 1991 until his retirement shortly before his death. Prior to coming to FSU, he was vice chancellor for Financial Affairs at Indiana University-Purdue University at Fort Wayne from 1980 to 1990. Before that, he worked at Purdue University in a variety of business officer positions, including budget director.
The Carnaghi Arts Building at 2214 Belle Vue Way houses classrooms as well as the School of Theatre's scenic, paint and prop studios, the Department of Interior Design's design and fabrication workshop and the Department of Art's studios, galleries and workshops.