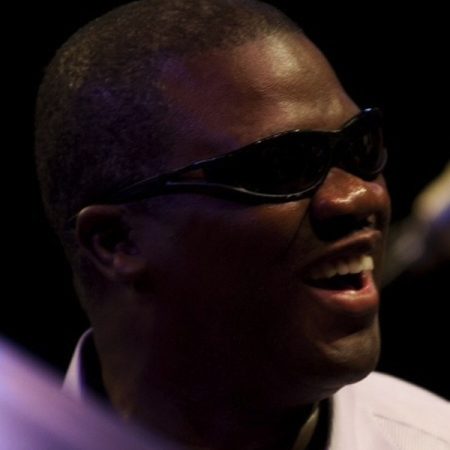 Renowned jazz pianist Marcus Roberts will appear with his new band, Modern Jazz Generation, at a free concert on Florida State University's campus on Aug. 29. The FSU College of Music alumnus and professor will play an original composition, "Romance, Swing, and the Blues."
Roberts' band features Florida State alumni and talent, with College of Music Associate Professor of jazz studies Rodney Jordan on upright bass andAlphonso Horne on trumpet.Jason Marsalis is on drums.
The concert, which is now sold out, will take place at 7:30 p.m. on Thursday, Aug. 29, in the Ruby Diamond Concert Hall, Westcott Building, 222 S. Copeland St.
Please note that tickets are required for this free performance. The College of Music box office is in Room 101 of the Westcott Building, in the lobby of Ruby Diamond, and can be reached at (850) 645-7949. Find hours and more information online.
"Romance, Swing, and the Blues" is a suite of music Roberts wrote more than two decades ago. It was modernized and had its premiere last fallat the Rose Theater in New York City, home of Jazz at Lincoln Center. Roberts is raising money through Kickstarter to record the suite, in what he calls his "biggest independent recording project yet."
Roberts, a native of Jacksonville, Fla., was raised listening to the music of his local church. He lost his sight at age 5, and began teaching himself to play the piano a few years later. He had his first piano lesson at age 12. Roberts studied classical piano at Florida State with Leonidas Lipovetsky and made his mark at FSU by winning a number of awards.
At 21, Roberts started touring with Wynton Marsalis and stayed with the jazzman's band for more than six years. Roberts signed his first recording contract in 1988, joined Columbia Records in 1994 and has had a versatile career performing and recordingjazz standards, original suites of music, large ensemble works and symphony orchestra pieces.
Roberts launched his own label, J-Master Records, in 2009. He is an active composer and arranger.
Roberts is also a dedicated educator. He performs one-on-one instruction with students and works with small and large groups of jazz studies students at the Florida State University College of Music each semester. And he and his fellow musicians regularly provide master classes, workshops, lecture-demonstrations and residency programs while on tour.