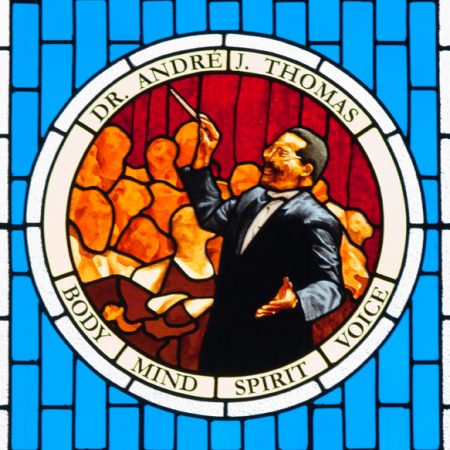 Florida State University surprised longtime music Professor André J. Thomas during a special ceremony Jan. 25 in the university's Heritage Museum by unveiling a stained-glass window created in his honor that depicts him directing a group of choral performers. Thomas is widely recognized as a giant on the national stage of choral conducting, composing and arranging.
College of Music faculty members and students, as well as members of the Tallahassee Community Chorus attended the ceremony to celebrate Thomas, who is the director of choral activities and a professor of choral music education at Florida State.
"There are no words to express my gratitude for your kindness," Thomas said.
The commemorative window was donated by retired Florida State researcher and Tallahassee Community Chorus member Ruth Pryor, who is a personal friend of Thomas.
"I donated this window because I thought it was important for Dr. Thomas to be recognized for all his years of dedicated service to the university and the Tallahassee Community Chorus," said Pryor, who worked at Florida State as an associate in research from 1973 to 2006. "I think Dr. Thomas is a marvelous man. All of his students and the members of the choruses that he directs love him."
Jan Smith, president of the Tallahassee Community Chorus, echoed Pryor's sentiments about Thomas.
"He means everything to our organization," Smith said. "Dr. Thomas has been our teacher, our mentor, our mother sometimes. He has taught us wonderful music and has been a great director for 25 years. I think this window is a wonderful way to recognize him and to memorialize his contributions to choral music."
When Thomas began directing the Tallahassee Community Chorus a quarter-century ago, it had 37 members and did not perform outside of the city. Under his direction, the chorus, which now boasts 250 members, has performed at Carnegie Hall, in China at the first Beijing Choral Festival, and in the Czech Republic at the Prague Choral Festival. This summer, it will perform in France at the Paris Choral Festival.
Florida State Provost and Executive Vice President for Academic Affairs Garnett S. Stokes and College of Music Dean Don Gibson presided over the window unveiling ceremony. The window, ringed with the words "Dr. André J. Thomas, Body, Mind, Spirit, Voice," is among nearly 20 other commemorative windows in the Heritage Museum that celebrate people, programs and events that are special to Florida State's history. All of the windows are created by the university's Master Craftsman Program and are funded by the private gifts and donations of individuals, classes or other groups.
In 2011, Thomas was honored by Chorus America with the Distinguished Service Award. He is a past president of the Florida/American Choral Directors Association and of the Southern Division of the American Choral Directors Association. He earned his Doctor of Music Administration degree from the University of Illinois.
Thomas is in demand as a choral expert, clinician and director of honors and all-state choirs throughout the United States, Europe, Asia, New Zealand and Australia. In addition, he has also distinguished himself as a published composer/arranger.
Thomas has conducted choirs at the state, division, and national conventions of the Music Educators National Conference and American Choral Directors Association. His international conducting credits include service as conductor/clinician for the International Federation of Choral Musicians, a summer residency of the World Youth Choir in the Republic of China and the Philippines, a winter residency of the World Youth Choir in Europe, and a premier performance by an American choir (The Florida State University Singers) in Vietnam.