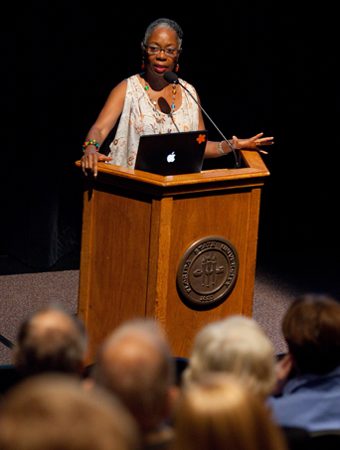 Calling herself an example of the "success of American public systems" and declaring the arts "a powerful conduit for change," acclaimed choreographer Jawole Willa Jo Zollar — the Florida State University 2011-2012 Robert O. Lawton Distinguished Professor — delivered the 15th Annual Lawton Lecture on Oct. 27 in Montgomery Hall's Nancy Smith Fichter Dance Theatre.
The Artist-in-Residence and Nancy Smith Fichter Professor in Florida State's School of Dance, Zollar had a lot to show and tell about the importance of the arts and their essential role in community engagement and problem-solving. Her lecture, "A Life in Art and Public Practice," praised the public support that changed and shaped her life by making possible the opportunities and acquisition of skills, confidence and, ultimately, vision required to lead and inspire others.
She recounted some of the challenges she faced as a young adult — among them, serious health and financial challenges, and undergraduate years in which she survived by concurrently working three different jobs. She said it was the public support she received as a Florida State graduate student that finally allowed her to focus fully on her art — and, later, to use "arts-making as a conduit for change" in disenfranchised communities across the United States and beyond.
Zollar visibly moved the Lawton Lecture audience with video clips of emotionally powerful performances by Urban Bush Women, the celebrated New York dance company for which she is the founding and artistic director.
Later, she delighted the crowd with her own '60s-era dance demonstration. She also brought a cadre of FSU students on stage to demonstrate the ways in which observant, responsive movement by individuals within a group of dancers eventually builds trust and rapport among the group members.
Zollar described the creation of her arts-based community-engagement programs that incorporate new strategies for working with disenfranchised communities — focusing on their strengths and assets rather than their crises, for instance.
She spoke passionately of the culmination of her arts-driven activism — the 10-day-long Summer Leadership Institute, which she conducts with Urban Bush Women in uniquely challenged communities such as New Orleans.
"Jawole Willa Jo Zollar is a force of nature who truly unleashes the power of dance to change lives, from her astonishing work since 1984 with contemporary dance company Urban Bush Women to her pioneering and inspiring work with students, artists and communities around the world," said FSU College of Visual Arts, Theatre and Dance Dean Sally McRorie this past spring, when Zollar was named Florida State's newest Lawton Distinguished Professor.
First bestowed in 1957, the Robert O. Lawton Distinguished Professor award is the highest honor that FSU faculty can confer upon a colleague. The award is named in honor of the late Vice President for Academic Affairs Robert O. Lawton, a longtime and highly esteemed member of the FSU faculty.
The esteem with which colleagues and students regard Zollar has been reflected in her recognition as a 2009-2010 Guggenheim Fellow. She also is the recipient of, among numerous honors, a 2008 United States Artists Wynn Fellowship; the New York Dance and Performance Award, better known as a "Bessie" — the dance world's Tony — in 1992 and again in 2006; the 2006 Joyce Award; the 2005 Master of African American Choreography Award from the Kennedy Center; FSU's 1999 Dr. Martin Luther King Jr. Distinguished Service Award; the 1997 FSU Alumna of the Year Award (Zollar received her Master of Fine Arts degree in dance from FSU in 1979); and the 1994 Capezio Award.
After leading community engagement initiatives across the United States for many years, Zollar and her Urban Bush Women were appointed as 2010 U.S. State Department cultural ambassadors to South America.
"Jawole Zollar's celebrated work is a rich stew that reflects the artistic and historical diversity of human culture," McRorie said. "She is a national treasure. We are lucky to have this exceptional artist, educator and humanitarian as our colleague, friend, devoted teacher and mentor."