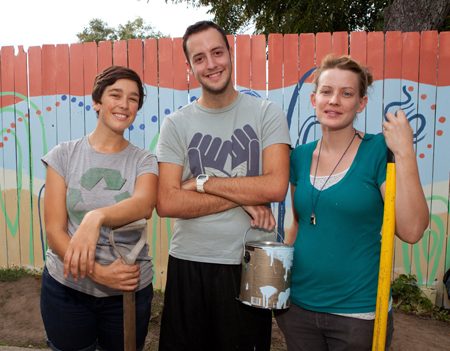 Alex Zastera swooped his paintbrush in a high, curving arc, leaving a trail of pale green paint on the fence that shielded the homeless from the pound of traffic along nearby West Tennessee Street.
Zastera, a 19-year-old Florida State University sophomore from Jacksonville, Fla., who is majoring in studio art, was one of about 70 Florida State art students who helped with an earnest beautification effort at the downtown Tallahassee-Leon Shelter, better known as The Shelter.
"For those of us who can't have our work in a museum right now, this is a way to better the community — we're bringing art to people who wouldn't necessarily have access to it," said Zastera, who explained that he and other students were creating a design influenced by Mesoamerican paintings.
During a five-day stretch in late October, dozens of Florida State fine art students — both graduate and undergraduate — showed up daily at The Shelter, which provides free, unconditional lodging and meals to between 120 and 150 homeless men and women each night.
The students painted fences and walls with soothing, abstract designs and bright, Van Gogh-style sunflowers. They raked, swept, cleaned and planted flowers. They lugged tires, piles of oyster shells and lumber in an effort to create a rain garden that will prevent water from flooding the courtyard where some of the homeless men and women sleep. They also began constructing a gazebo, which will provide additional shelter from sun and rain.
The organizer of the event, Carrie Ann Baade, an assistant professor of painting and drawing at Florida State and a respected artist of edgy trompe l'oeil portraits and allegorical narratives, said she is one of several art faculty members who are incorporating a social component into their course requirements.
"As an educator, I believe it's important to provide service with learning. It not only provides real experience on a résumé but also helps students become integrated with the community," said Baade, who has also facilitated student projects at a Tallahassee domestic violence shelter and a rescue mission. "In doing this, students learn about philanthropy. And in the process, they also cross social and economic boundaries."
Florida State art students have enthusiastically embraced the new movement in teaching social consciousness alongside traditional academics. When choosing the 2011 Department of Art Collaborative Research Scholar, undergraduates voted for Swoon, an internationally acclaimed street artist, whose realistic, life-size wheat-paste prints and paper cutouts populate abandoned buildings, bridges and water towers in various places around the world.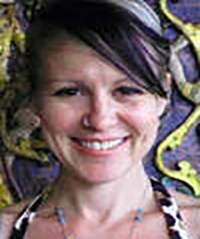 Swoon, who is originally from Daytona Beach, Fla., and whose real name is Caledonia Dance Curry (but who goes by "Callie"), delivered a scholarly lecture while at Florida State and spent every day working at The Shelter alongside dozens of students and homeless residents experienced in building and painting.
"This is awesome — beyond my expectations," she said. "I've never been involved in a project exactly like this one." She added that she had learned to use a sledgehammer in the process.
Marnie Bettridge, who holds bachelor's and master's degrees in architecture and is currently working toward a master's degree in studio art at Florida State, helped organize the event. She noted that the severity of the economic recession had provided the Shelter blitz with even more meaning for students, who were learning not only to "pitch in" a little bit more but were finding new audiences for their art.
Florida State's popular festival of the performing arts, Seven Days of Opening Nights, as well as the generosity of an anonymous donor, supported Swoon's lecture and beautification project at The Shelter. Local businesses, including nurseries, trucking and gutter companies, donated both materials and labor to the effort.
One homeless client, who identified himself as Will Mills, said he was a former union painter and long-distance truck driver. At 57, an injury and a stroke had affected his health and his speech.
Mills has lived at The Shelter for about six weeks and helped student volunteers with both priming and painting.
"I just want to say thank you to the students for bringing in a little color," he said in slow, halting sentences. "It looks beautiful — much better than last week."
The FSU volunteer beautification effort at The Shelter will continue through the fall semester as students monitor their plantings and rainwater control efforts.
"It's a trial and error process," Bettridge said. "We're definitely going to keep an eye on it."
CONTACT: Carrie Ann Baade
(302) 897-8126; carrie@carrieannbaade.com