Opera legend Carlisle Floyd is returning to Florida State University for a gala concert to celebrate his work, life and generosity.
FSU's College of Music will present "A Celebration of Carlisle Floyd" on Saturday, Sept. 24, in Ruby Diamond Concert Hall. Beginning at 7:30 p.m., the performance will feature College of Music alumni, faculty and student performers who will showcase a number of selections from Floyd's operas.
The concert serves as a means of recognizing the recently created Carlisle Floyd Endowment for Opera at Florida State. Floyd, one of the foremost composers and librettists of opera in the United States, hopes the fund will help students benefit from the offerings of FSU's College of Music and keep its opera program thriving. In addition to establishing the fund, Floyd donated the original manuscripts of his operas "Wuthering Heights" and "Susannah," the latter of which premiered at FSU in 1955, to the university's Warren D. Allen Music Library.
"This celebration of Carlisle Floyd's work provides a unique opportunity for our community to experience the musical artistry of a leading, internationally acclaimed composer," said College of Music Dean Don Gibson. "It also allows those of us in the College of Music to celebrate the career of a wonderful, generous human being whose initial operatic work helped launch our program into a leadership position and whose generous planned gift will ensure the continued leadership role FSU opera will play far into the future."
Floyd began his teaching career in 1947 at Florida State University, just four days after his 21st birthday. During his time at Florida State, he received the university's Distinguished Professor award and was later awarded an Honorary Doctorate of Humane Letters.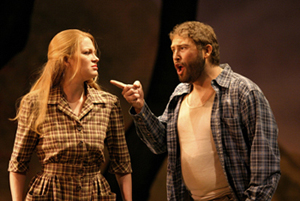 After almost 30 years at FSU, he accepted the prestigious M.D. Anderson Professorship at the University of Houston in 1976. Following his retirement from the University of Houston, he returned to Tallahassee, where he currently resides.
During Floyd's prolific musical career, the noted teacher and conductor wrote operatic renditions of "Susannah" (1955); "Wuthering Heights" (1958); "Of Mice and Men" (1970); "Willie Stark" (1981); "Cold Sassy Tree" (2000), and many others. He also composed a wide range of non-operatic works. The recipient of myriad honors and awards, his recent accolades include being inducted into the South Carolina Hall of Fame, the state where he was born.
Reserved tickets for "A Celebration of Carlisle Floyd" are $10 (free for FSU students with ID), and all proceeds will benefit the recently established Carlisle Floyd Endowment for Opera.
"We could think of no better way to thank him for his lifelong support and to celebrate his 85th year than to give Tallahassee audiences a chance to see and hear great scenes from Carlisle Floyd's operas and allow them to meet both the man and his music," said Professor Douglas Fisher, director of opera activities at FSU.
Fisher will be master of ceremonies for the event; guest artist George Darden, former assistant conductor, pianist and coach of New York City's Metropolitan Opera, will serve as pianist and coach for the evening.
For ticket information, call the College of Music Box Office at (850) 645-7949.
For more information, contact Leo Welch, associate dean of the College of Music, at (850) 644-2508 or lwelch@fsu.edu.