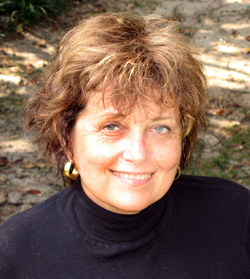 Florida State University Writer-in-Residence Barbara Hamby is no stranger to high praise and prizes for her poetry and short stories, but so far, 2010 has been a banner year.
Hamby has won a Guggenheim Fellowship, an honor reserved for a fraction of the nation's most distinguished artists, scientists and scholars performing at the pinnacle of their careers.
It is the latest chapter in her literary success story.
In January, one of Hamby's poems was chosen for inclusion in the 2010 edition of "Best American Poetry." That's twice in a row — another Hamby poem made it into the 2009 edition.
"Then in February, I learned that my first book of fiction, a collection of stories set in Hawaii, called "Lester Higata's 20th Century," had won a 2010 Iowa Short Fiction Award," said Hamby, a faculty member in the English department's renowned Creative Writing Program.
"I was pretty happy with those first two prizes," she said, "then along came the Guggenheim. Such unexpected honors in the course of three months have surprised and delighted me."
With the 2010 fellowship from the John Simon Guggenheim Memorial Foundation, Hamby will spend the next year creating a group of new poems and assembling a selection of existing ones from her first four books for a new compilation of verse. While her love of Shakespeare and theatre and especially travel have provided strong stimuli for her work — to inspire a future book, she hopes to ride the Trans-Siberian Railroad from St. Petersburg to Moscow and across Russia to Beijing — as a Guggenheim Fellow, she'll stay closer to home.
"The hard work of writing takes place mostly when I'm alone at my desk," Hamby said.
"Barbara Hamby is gentle and wise, daring and distinguished, and I'm not yet referring to her poetry," said Thomas Joiner, a 2003 Guggenheim Fellow and the FSU psychology department's Distinguished Research Professor. "On that point, anyone accomplished enough to craft phrases, to take one of innumerable examples, such as '… every harsh word I'd ever heard slung into space, all the peaches of summer on your tongue,' not only works magic with words and deserves a Guggenheim but also teaches her readers a thing or two about the essentials of human nature."
Hamby credits her Guggenheim Fellowship to persistence and luck.
"This was not the first time I'd applied for a Guggenheim," Hamby said. "In fact, I already had plans for my next application. I have a book of stories coming out in October and just received copies of 'Seriously Funny,' an anthology of both serious and funny contemporary poetry that I co-edited with my husband, David Kirby. That was to be my creative ammo for next year, just in case."
Her 2010 application was clearly formidable enough. In it she included her fourth, most recent book of poetry, "All-Night Lingo Tango," and her third book, "Babel," which won the 2003 Associated Writing Program's Donald Hall Prize.
"Barbara deservedly won the Guggenheim for her work as a poet, but she is as good a fiction writer as anyone who's won for their prose," said Pulitzer Prize-winning author Robert Olen Butler, a 1993 Guggenheim Fellow and FSU's Robert O. Lawton Distinguished Professor of English. "Her book of stories is downright stunning."
Typically, between 3,000 and 4,000 candidates from the United States and Canada apply each year for a Guggenheim Fellowship. Only about 5 percent prevail.
Like his wife, David Kirby is a Guggenheim Fellow — he won in 2003 — and a prize-winning poet who teaches in the Creative Writing Program. Hamby's success comes as no surprise to him.
"I married Barbara because I knew I couldn't live without her, but when I saw how hard she worked, I also knew she was going to be a big deal, and now everybody knows," he said.
Kirby calls the Guggenheim winners' circle a rarefied place. "Yes, it includes my unworthy self, but, in its 86-year history, also Ansel Adams, Aaron Copland, Langston Hughes, Vladimir Nabokov and Linus Pauling," he said.
Hamby and Kirby have become only the second husband/wife poetry fellowship recipients in the history of the Guggenheim, according to the current list of winning relatives on its Web site.
"It is always gratifying to have your work singled out by a group of accomplished people," Hamby said. "Now I will have acres of time to work, which is the main thing. I love to write and I have lots of projects lined up, including fiction, nonfiction and poetry. My next book of poetry is a priority, but I also have a novel I'm half finished with, and a book of essays …."
Born in New Orleans and raised in Hawaii, Hamby is the author of four published books of poetry. In addition to the Donald Hall Prize for "Babel" and Iowa Short Fiction Award for "Lester Higata's 20th Century," she won the 1994 Vassar Miller Prize for her first book, "Delirium," and her second, "The Alphabet of Desire," garnered the 1998 New York University Prize for Poetry and was named one of the 25 best books of 1999 by the New York Public Library. Her work has appeared in the Paris Review, Ploughshares, Pushcart Prize Anthology and many other top literary journals.
At its 2010 Faculty Awards ceremony April 1, Florida State honored Hamby with its "Distinguished University Scholar Award" in recognition of her longstanding and outstanding record of creative achievement.
The Atlantic Monthly has ranked ttive Writing Program at Florida State among the nation's top 10 for graduate-level creative writing programs and among the top five for Ph.D. seekers — the only program ranked on both lists. Visit the English department Web site at www.english.fsu.edu/crw/ to learn more.