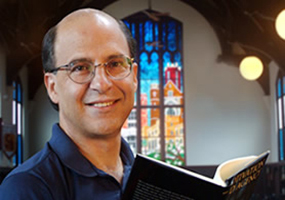 Since the beginning of time, philosophers and scientists have tried to figure out exactly how the human brain propels people into mental or physical action—whether it's scratching our heads, building a house, calculating the gratuity on a restaurant check or deciding today to put something off until tomorrow.
Alfred Mele, the William H. and Lucyle T. Werkmeister Professor of Philosophy at Florida State University, has just received a 2007-08 National Endowment for the Humanities Fellowship to write a book that combines recent data in neuroscience and social and cognitive psychology with the philosophy of action.
"Alfred Mele is a star in the philosophy of action," said one NEH panelist in rating Mele's proposal. "His proposed project is something rather unusual in philosophy. He wants to reinterpret the findings of experimental psychologists in a philosophically informed and sophisticated way."
Mele said he intends to debunk exaggerated claims about what the new scientific data show. For example, one neurobiologist contends that the brain decides to initiate actions about a third of a second before the person becomes aware of it and the remaining window of opportunity for "free will" in producing actions is tiny—about 100 milliseconds. Another says "conscious intentions" play no role in producing actions. Mele's book, which is intended for scientists, philosophers and philosophy students, will argue that these scientists have an underdeveloped conceptual framework for the topic.
"When it comes to human action, conceptual and empirical work are much more productive in combination than either is on its own," Mele said in his grant proposal.
The $40,000 fellowship will allow Mele to write the book, his seventh, during a 2007-08 sabbatical leave from FSU. The fellowships are highly competitive; only 153 of the nearly 1,400 proposals received funding this year. This is not Mele's first NEH fellowship, however. He also received awards in 1985-86, 1992-93 and 1999-2000.