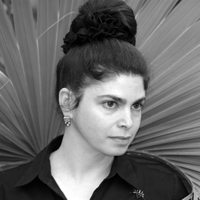 It is one of the premier national honors bestowed in the visual arts; now, two faculty artists from the Florida State University art department each have painted their way to a 2006 Joan Mitchell Award and the $25,000 grant that goes with it.
FSU Professor Mark Messersmith and Associate Professor Lilian Garcia-Roig—both known for their lush landscapes—will join this year's handful of emerging American artists who have garnered a coveted Joan Mitchell Award for artistic merit and the accompanying
Painters and Sculptors Grant to help further their promising careers.
FSU College of Visual Arts, Theatre and Dance Dean Sally McRorie calls the rare double win and cash prize "quite a coup" in the visual arts world.
"Winners of the Joan Mitchell Awards are typically artists from the New York City region, and first they must be nominated by a select group of art world figures," she said. "For FSU to have two winners this year, in fact for any single institution to have two winners of such a prestigious national award in a single year, is truly extraordinary. What's more, Mark Messersmith and Lilian Garcia-Roig are excellent teachers as well as wonderful artists."
The Joan Mitchell Foundation was established in 1993 in memory of contemporary American abstract painter Joan Mitchell. Through its educational, financial and promotional support of visual artists, the foundation seeks to demonstrate that painting and sculpture are significant cultural necessities.
"I've become increasingly impressed with the exceptional quality of my faculty's research ever since I arrived at FSU last summer," said Joe Sanders, chairman of the art department. "I'm delighted that the Joan Mitchell Foundation has recognized FSU's excellent painting faculty through no less than two of its highly competitive awards, a remarkable dual achievement that also reflects the quality of our department, college and university."
Garcia-Roig earned her Master of Fine Arts degree in 1990 from the University of Pennsylvania. She joined the FSU art department faculty as an associate professor in 2001,teaching painting and drawing. In 2002, she also became the director of the department's M.F.A. program. Among numerous fellowships and honors throughout her art career, she was the featured artist for the state of Florida during National Hispanic Heritage Month in 2004.
As a plein-air (on-site) landscape painter, Garcia-Roig calls her artistic mission "an effort to capture the character of seemingly ordinary, dense landscape in a way that reflects a passionate engagement with the scene and with the painting process." To learn more, visit her Web site at mailer.fsu.edu/~lgarcia.
"The Joan Mitchell Award is a very big deal," Garcia-Roig said. "It is difficult for an artist living outside of a major art center to get this sort of recognition. It is even harder for a dedicated teacher and faculty member involved in significant service jobs to keep a steady quality of work produced, let alone exhibited and recognized as of top national-level quality.
"In the art world, teaching isn't seen as a boost to one's national reputation; but the fact that both Mark and I got this award anyway proves that quality teaching and service and quality, national-level creative work are not mutually exclusive," she said.
Messersmith joined the FSU art department's painting faculty in 1985, and currently teaches drawing and painting. He received his M.F.A. in 1980 from Indiana University.
In addition to his 2006 Joan Mitchell Award, he has won numerous state, national and international art honors, including a fellowship from the National Endowment for the Arts.
"Since moving to the southeastern United States in 1985, my work has dealt with the uniqueness of the region's environment and the beauty of its lands and animals," Messersmith said. "While both land and animals are vulnerable, they share a strong determination for survival and still offer potential dangers for the unwary visitor.
"FSU has provided the time and support that has enabled me to pursue this form of research. Now, the Joan Mitchell grant will enable me to further my research and present my work to other regions of the country," he said. Additional information on Messersmith's artistic vision and work can be found at www.markmessersmith.com.
One other painter claimed a Joan Mitchell Award during his tenure in the FSU art department; that was former Associate Professor Odili Donald Odita, in 2001.
Art at FSU's College of Visual Arts, Theatre and Dance offers the opportunity to earn the highest awarded degree in the field from an internationally recognized, Class I research institution. To learn more, visit www.fsu.edu/~art/.