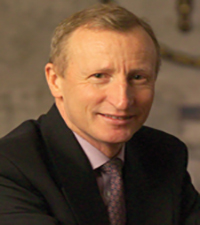 Alec Hargreaves, director of Florida State University's Winthrop-King Institute for Contemporary French and Francophone Studies, has been awarded France's top national honor.
Hargreaves was named a Chevalier in the Legion d'Honneur (Knight of the Legion of Honor), an elite order created by the masterful French general and emperor Napoleon in 1802 to honor outstanding service to the French nation.
The honor, in recognition of his contribution to strengthening the cultural ties between France and the United States, was conferred on Hargreaves by French Minister for Equal Opportunities Azouz Begag at a ceremony in Paris on Wednesday, Sept. 27.
Begag praised Hargreaves as an important influence in shaping public debate over anti-discrimination policy in France, including his own thinking as minister for equal opportunities.
"You have helped France better understand the challenges and opportunities of diversity," Begag said. "Through your pioneering research and publications you also have helped Americans better understand France," he added, noting that Hargreaves had been among the first to make France's North African immigrant minorities widely known in the English-speaking world.
Begag, a leading writer and sociologist as well as a government minister, was born in France of Algerian immigrant parents. He has close ties with FSU, where he has served as a visiting professor since 2002. Translations by Hargreaves of two of Begag's books are due out in the United States in 2007.
The ceremony was attended by distinguished French writers, filmmakers, researchers and other public figures, many of whom also have visited FSU as guests of the Winthrop-King Institute. They included screenwriter Tonino Benacquista, winner of a Cesar (the French equivalent of an Academy Award) in 2006; Michel Wieviorka, recently elected president of the International Sociological Association; and Victoire Bidegain di Rosa, formerly cultural attachee at the French Consulate in Miami.
A specialist on international migration in France, Hargreaves was appointed in 2001 to head FSU's newly created Winthrop-King Institute for Contemporary French and Francophone Studies (www.fsu.edu/~icffs/), which has rapidly gained an international reputation for its innovative program in contemporary French studies.
In his acceptance speech in Paris, Hargreaves compared his passion for France with that felt by the late Ada Belle Winthrop-King, a former FSU instructor whose endowment supports the Winthrop-King Institute and enables Florida State students to discover France firsthand through study-abroad scholarships.
"This award honors not only my own work but also the vision and commitment of FSU in the field of French studies, together with the inspirational support of the Winthrop-King Fund," Hargreaves said.
FSU will honor Hargreaves with a campus ceremony on Nov. 28. The French consul general in Florida, M. Philippe Vinogradoff, will speak at that ceremony.
It is rare for foreigners to be admitted to the Legion d'Honneur. Hargreaves becomes just the second non-French FSU faculty member to be named a Chevalier in the order. Donald Horward, a professor emeritus in the department of history and former director of FSU's Institute on Napoleon and the French Revolution, received the honor in 2002.
A native of the United Kingdom, Hargreaves has conducted pioneering research on migration between North Africa and France. In 1992, his research earned him the first full professorship in England to combine French and Francophone studies, a new field covering the interface between France and other French-speaking countries. Hargreaves served as chairman of the Department of European Studies at Loughborough University in England before moving to FSU in 2001. He also has held visiting professorships at Cornell University as well as in Paris and at other French universities.
The Legion d'Honneur isn't the first honor conferred upon Hargreaves by the French government. In 2003, he was named a Chevalier dans l'Ordre des Palmes Academiques (Knight of the Order of Academic Palms). That order, established by Napoleon in 1808, recognizes devotion and accomplishment in the areas of teaching, scholarship and research.