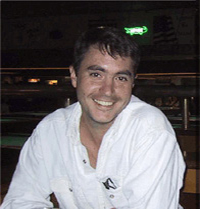 A Florida State University archaeologist and a team of some of the best anthropology students in the nation hope to uncover clues about the way copper changed the lives of ancient people during the transition from the Neolithic to the Copper Age, a poorly understood period in the prehistory of the Great Hungarian Plain.
Florida State University Anthropology Professor William Parkinson will lead the excavation of a 6,500-year-old village in Hungary this summer to learn how copper affected the economic and political organization of the people of this time period. The Copper Age also marked the first time people began to use animals for plowing and secondary products such as cheese and milk.
"These were some of the first people in the world to use metal," Parkinson said. "I frequently use the analogy of computers in the modern world — once your society commits to adopting them, they have a lasting impact on the structure of economic and political organization that cannot easily be undone."
As the director of the Koros Regional Archaeological Project — a collaborative international archaeological project — Parkinson received a National Science Foundation grant that allows 10 undergraduates, two of whom are from FSU, to participate in the field school. Several FSU graduate students will serve as teaching assistants. While there, the students will learn about European prehistory, archaeological method and theory and Hungarian culture.
The field school runs from June 27 to August 5.