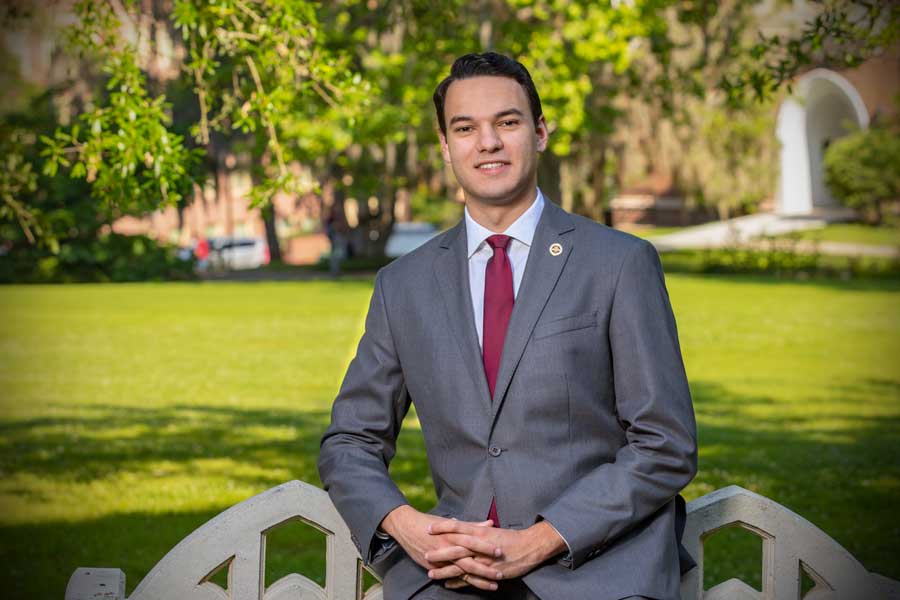 "Coming to FSU was the best decision I could have made, and I have earned the exact benefits I anticipated FSU would offer me."
Fast Facts
Internships: Governor's Office of Policy and Budget
Awards: Truman Scholarship Finalist
Impact at FSU: "It is satisfying to know that I contributed to our university's continued rise on the national stage through my work as a student leader and as a university employee."
One first you're proud of: Being a first-generation American
And another: Being a first-generation college student
Jason Puwalski arrived at Florida State University with a plan — a few of them actually.  
As a first-generation college student, from a family with a background in law enforcement, Puwalski is drawn toward the legal realm and figured a career as an attorney was his path. While that might still be the case, Puwalski's list of possibilities has broadened to include a number of options, notably in politics.  
"When I first got to Florida State, I didn't know much about lobbying or political consulting," he said. "I didn't realize how you can go into so many of these areas and own your own business and really vary your career."  
Puwalski's introduction to politics includes extensive work in FSU's Student Government Association, where he held a number of positions including Executive Director of the Office of Governmental Affairs during his junior year. That experience came with a broad scope of responsibilities.  
"I managed a $15,000 budget, negotiated with student leaders and represented the interests of our 46,000-member student body before the state government," Puwalski said. "I also planned and executed the most vibrant FSU Day at the Capitol since the pandemic." 
"What I've realized is that you can plan too much and sometimes miss other opportunities that come your way," he said. "At FSU there are so many opportunities."    
Among his academic accomplishments at Florida State, Puwalski has maintained a 3.9 GPA, being named to either the President's List or Dean's List every semester. He completed the Undergraduate Research Opportunity Program, focusing his research on the history of women in the United States military.   
Most recently he was a finalist for a Truman Scholarship, one of only six students to be finalists from the state of Florida and the only one from a Florida university. The Truman is among the most coveted —and competitive— scholarships nationwide and Puwalski was among the final 199 students.  
"Even if I didn't get that far in the process, it means a lot to me for a lot of reasons," he said. "So many people at the university took an interest and helped me. They took time to do practice interviews with me, to write letters of recommendation or just give me encouragement. It means a lot to me to represent FSU."  
---
You mentioned being a first-generation college student at FSU. What does that mean to you?
The people before you make sacrifices for you and you need to take advantage of that. You need to ensure their sacrifices weren't for nothing and you need to do it for yourself; if you don't no one is going to do it for you. I appreciate the investment FSU makes in first-generation college students like me.  
What can you tell us about your community work? 
Through my work in student government, I led delegations of student leaders from FSU and across the state to advocate for students' interests at the state capitol. My expertise in this area was strengthened by my work as an employee at the Office of Governmental Relations at FSU, where I worked under the direction of FSU's governmental relations team and President McCullough's cabinet. I also helped to launch the inaugural FSU Legislative Internship Program, which provided scholarships and valuable internship experiences to 30 FSU undergraduate students. 
You're a double major, any minors? 
I have completed minors in law enforcement intelligence and law and philosophy, as well as a certificate in United States intelligence studies. 
You'll graduate spring 2024, what happens next? 
I was accepted into the Combined Pathways Program for the Masters of Applied American Politics and Policy. I will begin my master's degree courses as I complete my senior undergraduate studies, and graduate with my master's the year after. 
What's it like to be a decision maker in SGA?  
Navigating student government in today's highly politicized climate is no easy feat, especially considering my role as the chief government relations officer for the student body. However, I pledged to keep politics out of our decisions and appointed qualified individuals to my board of directors, undoubtedly crafting the most ideologically diverse entity in all of SGA. We set a legislative agenda that supported Name, Image, and Likeness legislation for college athletes, aimed to enhance mental health, strengthen campus safety, and support Bright Futures.