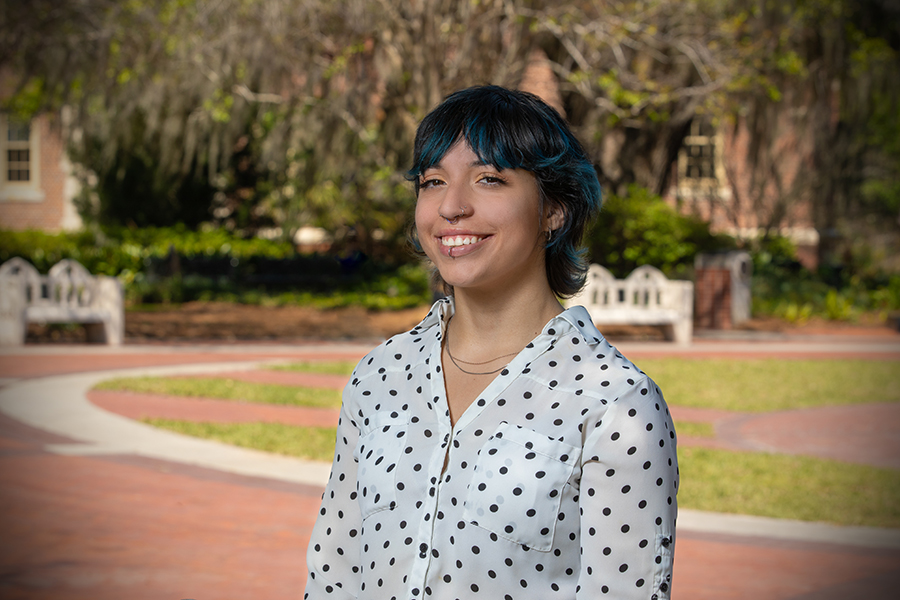 "FSU has created in me a newfound confidence to try new things and not be discouraged if I fail."
Fast Facts
Favorite FSU Eatery: Tally Mac Shack at 1851 
Summer Plans: Researcher at the National Nuclear Data Center at the Department of Energy's Brookhaven National Laboratory in New York 
Multilingual: English, Spanish and Portuguese 
Favorite FSU Sports Teams: FSU's women's volleyball and soccer teams 
Hobbies: Playing guitar and drawing portraits 
Favorite Study Spot: The tables in front of Strozier while the sun is setting 
Motivated by a passion for teaching, sophomore Ana Pereira has made it their mission to utilize Florida State University's resources to encourage all students to believe in their own abilities, regardless of learning style.
"I began tutoring in middle school because of my belief that students with different learning styles shouldn't be at a disadvantage in their classes," Pereira said.
Prior to college, Pereira shied away from physics. However, after their first course in the FSU Department of Physics, they became captivated by the subject.
"Physics has indirectly answered so many of the 'why?' and 'how?' questions I had in previous science classes," Pereira said. "Once I learned about the universalism of physics, I couldn't look away."
Pereira hopes that through tutoring, they can support and motivate students to make a difficult major, like physics, more approachable.
Through FSU's Academic Center for Excellence, or ACE, Pereira has tutored more than 50 students one-on-one and 200 students in group sessions for courses including general and organic chemistry, biology and general physics.
Pereira utilizes a mix of visual, auditory and kinesthetic learning styles to effectively communicate with their students, drive results and increase students' confidence in the subject matter.
"Often students struggle because the way that the information was presented is not compatible with their preferred learning style," Pereira said. "I answer questions with a variety of explanations as a way to enhance a student's performance regardless of class difficulty."
Pereira noted that tutoring students at ACE has simultaneously improved their comprehension of physics and confidence in their own abilities. Adapting explanations and answering diverse questions has reinforced physics principles and strengthened their understanding of the subject matter.
Pereira works alongside graduate and undergraduate students as a researcher for FSU's Department of Chemistry and Biochemistry and is a member in FSU's Chapter of The Florida Georgia Louis Stokes Alliance for Minority Participation (FGLSAMP). Both programs encouraged Pereira to pursue a degree in STEM as a minority student.
Pereira encourages their peers to take advantage of the opportunities and resources that FSU provides.
"I was scared at first, but putting myself out there has completely transformed my perspective on what FSU really has to offer and I encourage all my peers to do the same."
After graduation, Pereira plans to pursue a doctorate in nuclear physics, hoping to become a researcher for the U.S. Department of Energy.
---
What personal experiences inspired you to study physics, and how has FSU helped solidify your passions?
I avoided physics throughout high school; however, after taking a course with Yuko Hori, an instructor in the Department of Physics, I became enamored with the study. The FSU physics department faculty, staff and advisers have guided me throughout this experience, making an intimidating field of study feel approachable. 
How has tutoring students increased your confidence in your abilities?
Even though most of the students I tutor are non-physics majors, I think this has increased my comprehension of physics the most. Non-physics majors don't necessarily like the subject. Therefore, these are the students I need to get the most creative and interpretive for. When I do tutor students in general physics, I receive rather diverse questions. The constant reinforcement of physics principles strengthens my understanding of their applications in my upper-level courses.  
Which learning style would you say you utilize the most?
The most common learning style I apply is a mix of visual, auditory and kinesthetic learning. I usually give a two-to-three-minute verbal explanation of the question while drawing relevant diagrams and equations on the board. Aside from writing down the equations and clarifying specific questions, the students solve the rest of the problem themselves. This mix has been the most efficient for me and, hopefully, the students. 
What programs at FSU have been beneficial as a minority in STEM?
I am a member of The Florida State University Chapter of The Florida Georgia Louis Stokes Alliance for Minority Participation (FGLSAMP). The program is meant to increase populations of historically unrepresented minorities in STEM and 'aid with acclimation to the college environment, the social and academic integration of the undergraduate experience and the engagement in research and internship opportunities.' FGLSAMP has certainly encouraged me in my study of physics. It has been extremely helpful for me to have a community of future scientists of color that I can relate to on both an academic and non-academic level, especially in times of stress. 
How has your experience working at FSU prepared you for your future?
Since last May, I have been working in Associate Professor Justin Kennemur's polymer chemistry lab within our Department of Chemistry and Biochemistry. I absolutely love the community of the lab group. Getting to know graduate students and seeing how hard they work inspires me. Seeing the amount of independence and responsibility, they're given and what they do day-to-day has better mentally prepared me for what my future will look like. 
What does FSU mean to you?
To me, FSU means opportunity. Not only academic opportunity but the discovery of my personal potential through student organizations and university programs like ACE, which has been incredibly significant — and I still have two more years to discover more! FSU has created in me newfound confidence to try new things and not be discouraged if I fail. I am now more proactive in doing things for the benefit of others while also considering my preferences.