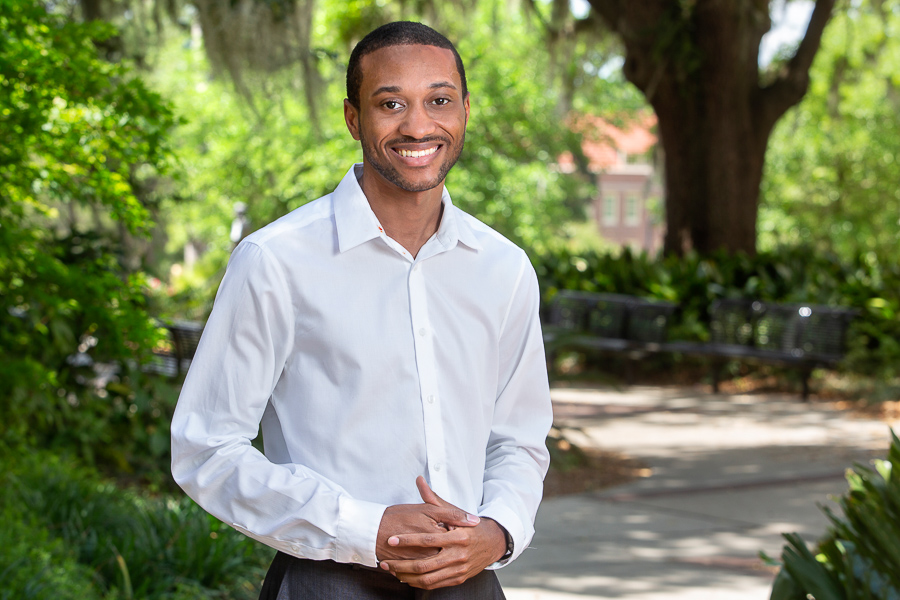 "Florida State has definitely made me a better person and a better leader."
Antonio Goodman has taken advantage of some phenomenal opportunities as a mechanical engineering student at Florida State University.
He's helped build a robot that could run; he has interned at Lockheed Martin and created 3D parts for fighter planes; and he's worked on aircraft engines for aerospace manufacturer Pratt & Whitney.
Along the way, Goodman has carved out time in his busy schedule at the FAMU-FSU College of Engineering to serve as a mentor to other students.
The Ft. Lauderdale native chose to attend Florida State because of its wide range of engineering opportunities and welcoming environment.
"When I toured FSU, it was a better environment compared to the other schools I visited," Goodman said. "I just felt more at home here."
After arriving on campus, he immediately joined the American Society of Mechanical Engineers (ASME) to learn more about mechanical engineering and gain hands-on experience.
As a member of ASME, Goodman traveled to Tennessee to participate in a national robotics competition. It challenged students to create a robot that could sprint, throw a ball, hit a golf ball and climb stairs. FSU's team did well, placing first in a competition that tested the robot's ability to throw a tennis ball.
It was a pivotal experience. Goodman saw new possibilities in the field of mechanical engineering, and he enjoyed learning from other engineering students.
"I really loved seeing how the upperclassmen tackled problems and how they designed things," Goodman said. "I got to apply ideas that we learned in class, and I worked in a group setting to manufacture a product."
After that experience, Goodman was hooked on mechanical engineering. He looked for opportunities to promote the FAMU-FSU College of Engineering and also help aspiring engineering students.
He found the perfect way to fulfill that goal as a recruitment representative. In that role, he took high school students on tours of the engineering campus and answered their questions.
Goodman continued to promote the FAMU-FSU College of Engineering by joining the Engineering Student Leadership Council as the recruitment chair. He worked as a liaison between administrators and students who served as a voice for classmates.
"I feel good about that role and the things that we were able to provide the engineering students on campus," Goodman said.
Confident in his mechanical engineering experience and knowledge, Goodman decided to take on a mentor role as a teaching assistant. He taught introductory classes on mechanical engineering and thermodynamics, gave students feedback on assignments, held office hours and helped professors.
"Being a teaching assistant was fun because I got to meet newer engineering students in my major and show them the ropes," Goodman said. "It was a chance to be supportive and help other people reach their goals. Seeing someone just starting out and then seeing them do bigger things was amazing."
Outside the classroom, Goodman has tutored first through 12th grade students at a learning center and also taught online college courses in statistics and engineering.
"It's really cool because I get students who come in struggling with something, and then I break things down to show them different ways to solve problems," he said. "It's rewarding when they master the lessons."
Goodman also mentors younger students through the National Society of Black Engineers (NSBE) chapter. The organization is paired with a local NSBE junior chapter of high school students passionate about engineering. Through that partnership, he works with a mentee who dreams of following a career path like Goodman's.
While devoting his time to helping other students succeed, Goodman has invested in his own future as a mechanical engineer by taking advantage of internships and research opportunities.
In summer 2017, Goodman secured an internship in Orlando at Lockheed Martin, an aerospace and defense security company. He was placed on a team that focused on 3D printing and programming.
"Parts would be made out of 3D printed material and then put on an aircraft or part of something that's in the field," Goodman said. "With my programming experience, I also looked for efficiencies, and I did a lot of the manual processes on a computer."
The following summer, Goodman traveled to Hartford, Connecticut, to be a structural analysis engineer intern for Pratt & Whitney, an aerospace manufacturer. In that position, he worked on F-135 engines for fighter jets and did "lifing" analyses to determine how long parts would last.
"If there was a scratch or a dent on a part, they would bring that to me and I'd do an analysis on it," he said. "I would use 3D software to make a model of the deformity in a part, and then I'd determine how much longer the part could operate before failing. The results would dictate whether we could still use the part, or if we should make a repair."
After graduating this week, Goodman will follow his passion for aeronautics and return to Pratt & Whitney to work as a structural analysis engineer in West Palm Beach. The company has selected him for a program that teaches different aspects of the business, so he hopes that experience will open doors for him in the company over the long term.
Reflecting on his FSU experience, Goodman recognizes the important skills he has developed during his time on campus.
"Florida State has definitely made me a better person and a better leader," Goodman said. "I've benefited from so many different opportunities here."