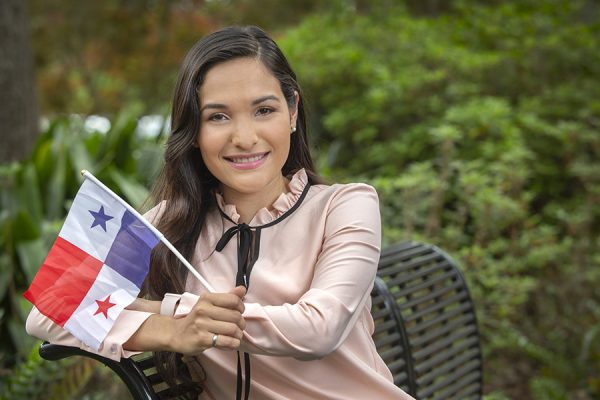 "Everything is possible when you work hard and take advantage of every opportunity that comes your way."
Florida State University senior Rebeca Hazera is an international student with a passion for science and research.
The native of Panama City, Panama, knew she wanted to pursue an education at a university where she would be challenged by new experiences and opportunities.
"FSU offered me the perfect balance of comfort and excitement," Hazera said. "There were so many resources for academic and personal growth that allowed me to make the most of my collegiate experience."
Her love of science began at a young age, leading her to follow in her father's footsteps and pursue a degree in chemical-materials engineering at Florida State's branch campus in the Republic of Panama located in the City of Knowledge.
"I chose my major because I love chemistry, but I also wanted to have the problem-solving skills of an engineer," Hazera said.
During her first two years at the FSU Republic of Panama campus, Hazera excelled academically and, at the same time, she looked for new experiences. That motivation prompted her to apply for the FSU 2+2 scholarship program, and she was accepted.
The 2+2 scholarship program allows citizens of a Latin American or Caribbean country enrolled at FSU-Panama to complete up to two years of undergraduate studies at FSU's main campus in Tallahassee. They get the in-state tuition rate, which offers an annual savings of about $15,000.
"As an international student, I have felt very welcomed and supported by both my peers and professors,"Hazera said."It was really different coming to a school from another country — the biggest change in my life — but all the sacrifices were worth it.Everything is possible when you work hard and take advantage of every opportunity that comes your way."
In Tallahassee, Hazera continued on her path of academic excellence. She earned the IDEA Grant in 2017 for her research on graphene, an incredibly thin and strong substance used in 3D printing.
"3D printing is a developing field right now, so a lot of the research on material science is related to it," Hazera said.
Hazera was able to work on her research in the lab of Subramanian Ramakrishnan, associate professor of engineering, and focus on complex fluids and nanomaterial research.
"As a woman in STEM, I feel empowered and respected," she said.
Hazera is a member of The Honor Society of Phi Kappa Phi and has a Six Sigma Green Belt certification, which allows her to work on engineering-quality-improvement projects.
"I am always looking for opportunities to grow and learn new skills, and Six Sigma presented me with defined analytical tools and strategies to tackle problems in a smarter way," Hazera said.
After graduation, Hazera wants to work with a company to gain more experience in her field. In the long-run, she hopes to manage an engineering company that develops sustainable products.
"One of the main things I love about FSU is that opportunity is everywhere," Hazera said. "FSU has changed my life forever and will always have a special place in my heart."
---
By Nicolas Maguina, University Communications Intern
Produced by the offices of Information Technology Services, the Provost, Student Affairs, Undergraduate Studies and University Communications.