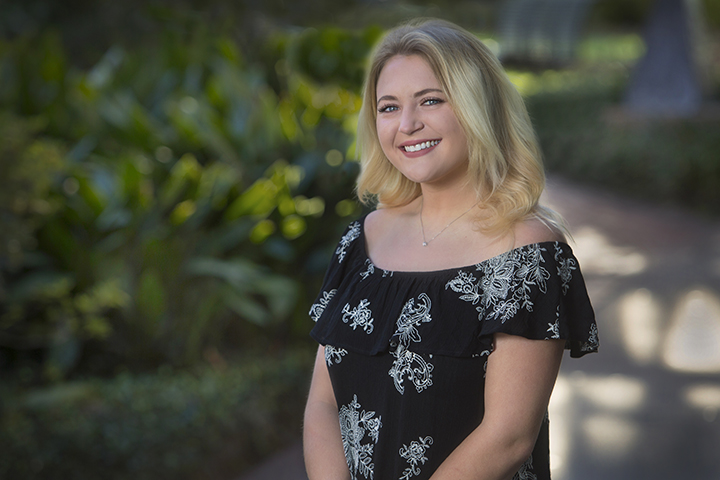 "I want to be able to impact at least one person's quality of life for the better."
First-generation college student Tara Palin was initially unsure what college she wanted to attend. What drew her to Florida State University was the challenging academic curriculum, exuberant school spirit and some distance from her hometown of Daytona Beach, Florida, which would help her facilitate the transition into adulthood.
"I saw college as an opportunity for me to step outside my comfort zone and begin to discover who I am as a person," Palin said. "FSU has a very supportive and friendly student body. Every day, I am surrounded by influential and intelligent young individuals I am lucky enough to call my friends and push me to pursue my dreams."
Palin is the first in her family to go to college, which motivates her to make her parents proud at every step of her college career.
"My advice for any other first-generation college student is: don't be afraid to not know something," Palin said. "Ask questions, be curious and change your major a million times. Do whatever it takes until you have found your calling."
Palin, now a senior at FSU, was always interested in the medical field, and she began her college career as a biochemical major on the pre-medical route. However, throughout her time at FSU, she found herself excelling in and more drawn to her math classes. So, she decided to change her major to chemical and biomedical engineering.
"This major allowed me to continue enhancing my math skills, while still being able to make an impact in the field of medicine," Palin said.
Instead of her original plan to become a doctor, Palin found another way to help patients — through research methods aimed at improving early detection of Alzheimer's disease.
This past summer, Palin and her research partner, Scott Boebinger, were awarded the Mark and Nancy Casper Hillis Endowment for Undergraduate Research to conduct research on Alzheimer's disease at the National High Magnetic Field Laboratory.
"Alzheimer's is a disease that damages a person's ability for not only self-recognition but the recognition of those who love them from the loss of our neural connections," Palin said. "My research has not only expanded my knowledge of MRI scans and what they can tell us about this disease but more importantly how to conduct research in a controlled and productive way."
Working under Associate Professor Samuel C. Grant, they hope to find a relationship between the decrease of connectivity and the increased presence of plaques in the brain. The loss of connectivity could be used as an early biomarker for Alzheimer's disease. They are also studying the ability of Diffusion Tensor Imaging scans being used as a diagnostic tool for Alzheimer's.
"Tara has been very enthusiastic in the lab, and she has no qualms about putting in the long hours needed to perform research," Grant said. "She has demonstrated not only excitement for the work but also is skilled in both the acquisitions and data processing needed in research."
Palin excels in her academics, receiving honors in her major as well as being inducted into a number of honor societies including, the national engineering honors society Tau Beta Pi, the National Society of Collegiate Scholars, the Phi Eta Sigma National Honor Society and the Order of Omega honor society.
"My involvement in academic and honors programs has added to my college success because being involved in different organizations helps us find what we are passionate about and connects us with people who push us to be the best versions of ourselves," Palin said.
She strives to be a role model for younger students in her major and reassures them with guidance and advice.
"This major is highly competitive and comes with late nights, long days and is very high stress," Palin said. "It is extremely easy to get discouraged. I remember being in their shoes, terrified of the rumors I heard of what was to come, and I think if I had a better idea of what to expect it would not have been as overwhelming."
Outside of the classroom, Palin gives back to her community through volunteering. She spent a summer break volunteering with the GREEN Program in Peru, helping with water conservation and sustainable and clean energy restoration practices. She mentors a young female student who is potential chemical engineering major from Detroit, Michigan, and also teaches math and science to kids at local elementary and middle schools. In addition, Palin does philanthropy work through her sorority, Zeta Tau Alpha, raising money for breast cancer education and awareness.
"Becoming involved in community events and volunteer work outside of FSU really puts things into perspective," Palin said. "I am lucky to have been given the chance to enhance my education through these experiences and inspire others to do the same."
Palin's diverse experiences at FSU have given her confidence to know what she wants to do with her future and begin the next chapter in her life.
"I want to be able to impact at least one person's quality of life for the better," Palin said. "Alzheimer's disease affects more than just the patient, it impacts the family and those close to them. In reality, all we have are the memories that we make throughout life, and I want to do my part in helping keep those memories alive."
After graduation, Palin plans to further her education by pursuing a master's degree in biomedical engineering, focusing on bioinstrumentation.
"Looking back at the person I was freshman year, I truly believe my ambition toward my future has grown immensely," Palin said. "The end seemed so far away, but in actuality, was right around the corner. FSU was there for me every step of the way — putting me on the path to becoming a successful young adult."
---
By Ali Buis, University Communications Intern
Produced by the offices of Information Technology Services, the Provost, Student Affairs, Undergraduate Studies and University Communications.