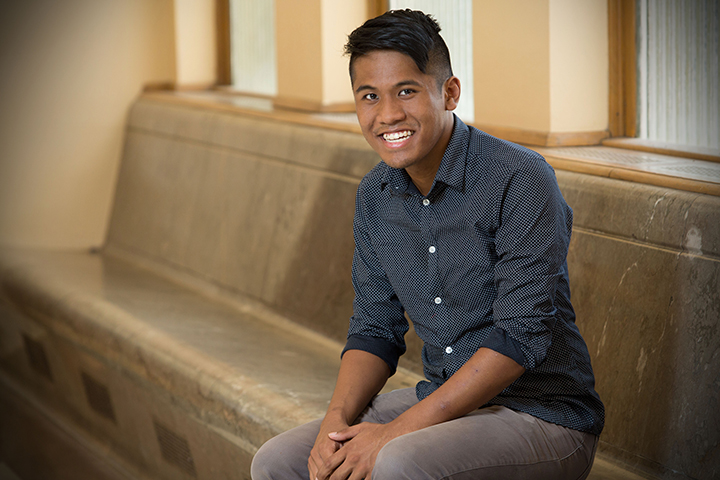 "Like many timid kids growing up, I found solace in being able to musically convey ideas and understand emotions without using words."
Michael Rivera is a Florida State University student who is dedicated to healing others through the unique combination of music and medicine. The FSU senior feels a profound commitment to use his interest in medical research and his talent for music to improve the quality of the community.
Rivera developed an interest in music at an early age. His natural talent and love for playing instruments prompted him to devote a part of his studies to music.
"I started playing piano when I was five years old and eventually branched out to other instruments and art forms," Rivera said. "Like many timid kids growing up, I found solace in being able to musically convey ideas and understand emotions without using words."
Rivera wanted to find a way to use his musical talents to better the lives of others. So when he learned that music has been known to help heal the sick and soothe the trouble-minded, Rivera began volunteering for the Arts in Medicine Program. As a volunteer, Rivera plays the piano for Tallahassee Memorial Hospital patients every week.
"I've had so many people — doctors, administrators and patients coming out of their wards — who have thanked me for sharing my gifts," Rivera said. "I'm not a physician yet, but I'm overjoyed that even now I can still share something that can help bring healing or relief to others."
When Rivera first came to FSU he wanted to pursue a degree in music therapy. However, after participating in projects with FSU's Undergraduate Research Opportunity Program his freshman year, Rivera began to develop an interest in research that equaled his passion for music.
"While my first project was originally in music theory and educational psychology, my work opened me up to different avenues and ideas," he said. "I started to see how all the disciplines are related to each other, and I strongly believe that we have much to learn from scholars outside our own fields."
The experience Rivera gained through the Undergraduate Research Opportunity Program prepared him future projects. In fact, Rivera presented preliminary research for both the Society of Ethnomusicology and the Florida Undergraduate Research Conference.
Although music and research are Rivera's primary focus at FSU, he still finds time to work with other organizations on campus, like 2-1-1 Big Bend, which is a helpline designed to provide crisis intervention support.
"Working on the hotline has shown me the personal and social struggles of our local community, and inspired me to pursue the psychiatric field," he said.
Rivera is dedicated to helping others in his community. He also works with PAEC Migrant Education, an organization that provides migrants with a smoother transition into American culture. Rivera volunteers for the program and teaches English to Spanish-speaking students.
"These volunteer positions have not only allowed me to help those who are trying to adapt to a new culture, but also to learn from and understand people from different backgrounds," Rivera said.
It is clear from Rivera's commitment to community service and his passion for research and music, that he is a unique and substantial asset to the FSU community. Through the languages of English and music, Rivera has made an immense impact on his community.
After graduation, he hopes to pursue a career as a family physician and psychiatrist.
---
By Victoria Sagebiel, University Communications Intern
Produced by the offices of Information Technology Services, the Provost, Student Affairs, Undergraduate Studies and University Communications.