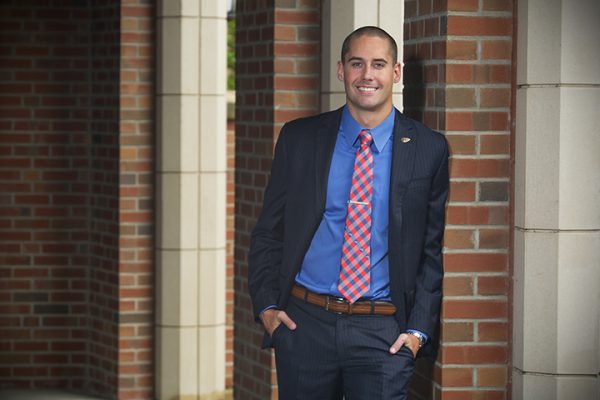 "Veterans have so much knowledge and experience to share, simply being around them has inspired me able to accomplish a lot."
Clark Rahman is a student-veteran dedicated to improving the quality of the military community's experience on the Florida State University campus and beyond.
The military always interested Rahman, and although he did not come from a military family, he knew from a young age that he wanted to enlist in the U.S. Army.
"I joined the military at age 17 because I wanted to be a part of something bigger than myself, and I felt an obligation to serve my country," Rahman said.
Rahman completed his pre-mobilized training for deployment at Ft. Hood, Texas, and was later deployed to Afghanistan with a military intelligence unit for nine months. He was promoted to sergeant at 20 years old, making him one of the youngest non-commissioned officers in the armed forces.
Rahman's experience in the Army strengthened his leadership skills and instilled in him a greater sense of community. Naturally, when Rahman arrived at FSU, he knew he wanted to join organizations that reflected the same values and ethos of the military.
He became a member of the Veterans Student Union, a group dedicated to providing support to student-veterans, while also aiding them in their transition from military service to campus life. The leadership skills he acquired from military service led Rahman to take on the role as the union's external coordinator.
"Veterans have so much knowledge and experience to share that simply being around them has inspired me to accomplish a lot," Rahman said.
In his time as the external coordinator, Rahman helped lead part of a movement that placed the FSU Veterans Alliance Arrowhead on the back of the FSU football helmets to help spread student-veteran awareness on campus.
"My job was to gain as much student support as possible by spreading the word of our movement," he said. "This is important so we can continue to show our support and also showcase all the great work FSU does for its student-veterans."
Rahman also volunteers with other service-driven organizations and dedicates his time to making a difference on the FSU campus and in the Tallahassee community.
He is a member and past president of the FSU fraternity, Pi Kappa Alpha. During his time as president, Rahman spearheaded an effort to raise more than $20,000 for the Tallahassee Boys & Girls Club, the chapter's philanthropy.
"The Boys & Girls Club offers programs and services to young children who have little adult supervision at home, enhancing their development by instilling a sense of competence, usefulness, belonging and influence," Rahman said. "This event means a lot to me because it is important for these kids to know that someone cares about them."
The time he spent presiding as fraternity president inspired him to do more in the Greek community, leading him to join FSU's Interfraternity Council, the governing body for the university fraternities.
Eventually, he was elected IFC president and, in that position, was able to further promote his cause of helping student-veterans on campus. Rahman proposed and passed a measure to waive all Interfraternity Council dues for student-veterans, allowing them to become members of fraternity chapters expense free.
"When veterans are coming off active duty, they are leaving a brotherhood and way of life behind," Rahman said. "I believe this new measure will help not just our 400 plus student-veterans at FSU. If other schools implement this movement, then student-veterans across the nation would be able to feel welcome and join a new brotherhood hassle-free."
It is evident through all of his accomplishments that Rahman has bettered the FSU community through the use of his wisdom and experience he gained during his Army service.
William Francis, director of the Student Veteran's Center, describes Rahman as a remarkable leader whose impact at FSU will continue to affect students for years to come.
"Clark is focused on actions that make a real difference in other's lives," Francis said. "A true Seminole, he has left a legacy for student-veterans at Florida State University."
Rahman's reenlistment date for the armed forces is September 2016, at which time he will have completed six years in the military. If he decides to continue a military career, his goal is to reach 20 years in the armed forces doing signal and communications work.
If not, after graduation Rahman seeks to have a career in IT, sales or operations.
---
By Victoria Sagebiel, University Communications Intern
Produced by the offices of Information Technology Services, the Provost, Student Affairs, Undergraduate Studies and University Communications.