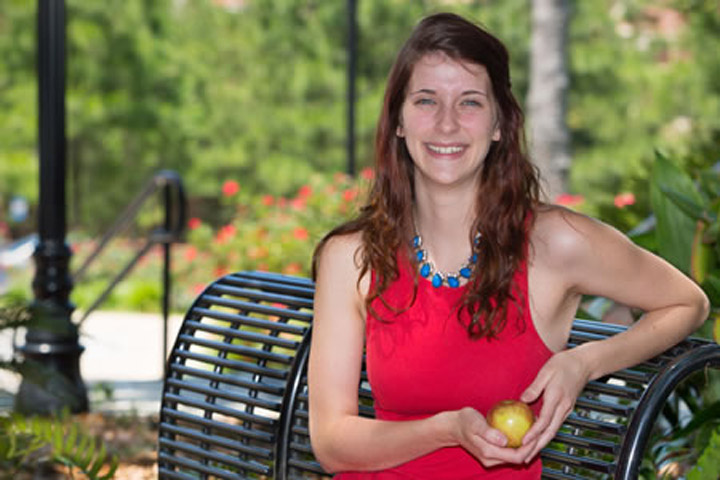 "Ask the school, someone will find a way to help you. If I tell my professors or an organization on campus about an idea I have, they always support me — they always help. That's my favorite thing about FSU."
Florida State University senior Taylor Newman originally pursued her first two years of college as an undecided major. After watching Food Inc., a documentary highlighting the unhealthy consequences of corporate farming techniques, Newman became inspired to get involved and make a change in the health industry.
Newman, who received an ACCIAC Public Service Research Fellowship, researched the best majors, universities and programs before deciding the interaction between nutrition and health was the right path for her — a path that led this Tallahassee native back home and to FSU after spending her first two years of college elsewhere. Newman became a part of Florida State's dietetics program as a junior.
"Taylor is the type of student that makes teaching so rewarding," said William Clay, a Florida State professor of nutrition, who is a mentor and supervising professor of Newman's research project. "She is intelligent, inquisitive, eager to learn, hard-working, creative, full of enthusiasm and utterly fearless."
She now stays involved in the Tallahassee community by teaching nutrition at Kate Sullivan Elementary School and helping students grow a garden. Though she grew up near FSU, it wasn't until becoming a Seminole herself that Newman learned all that Florida State had to offer. Newman belongs to the Student Dietetics Association and Global Peace Exchange at Florida State. She believes FSU has cultivated an environment in which professors do everything they can to make a student's research ambitions become a reality.
"Ask the school, someone will find a way to help you," Newman said. "If I tell my professors or an organization on campus about an idea I have, they always support me — they always help. That's my favorite thing about FSU."
In an effort to promote global health, Newman began planning a trip to India with a group of her fellow students, during which she discovered the Foundation for Sustainable Development. By luck or fate, the Foundation for Sustainable Development was also looking for student interns to promote health and nutrition in India. In preparation for her three weeks abroad, Newman worked three jobs to help fund the trip.
For her research, Newman conducted a dietary assessment of Harijan females in Jodhpur, India, to find leading causes of female malnutrition. Harijan refers to the "untouchables", the most under-privileged class of India. In Jodhpur, Newman worked with women and children at Sambhali Trust, a women's empowerment center that teaches English and vocational skills. Newman and her peers conducted the first survey of its kind, collected water samples, hosted a nutrition education workshop as well as pre and post-assessed nutritional success.
She then traveled to Nepal with the Global Peace Exchange to conduct research and promote Be Healthy Be Happy, a nutrition club dedicated to fostering health education and a healthy, active lifestyle. Upon arrival, children braided the students' hair and fanned them to keep them from overheating. Newman was touched that children who had so little, wanted to give everything they had back to their communities, with dreams of becoming doctors and helping the poor.
"The thing that stuck with me is it really opened my eyes to how lucky I was to be born where I was and have the opportunities that I do," Newman said. "But it didn't make me want to just leave and go back home because I knew I had it good there. It made me want to stay in India, and believe it could happen here, too."
This research excursion was so successful that the founder of Sambhali Trust has implemented Newman's nutrition project into a permanent venture. Each season, new Foundation for Sustainable Development interns travel to India and continue the legacy created by Newman and her peers.
This summer following her graduation, Newman will be using her remaining funds from FSU to travel Europe with her sister, even though this will be a recreational trip abroad, Newman can't resist adding a small research element into the mix. She will be conducting a photojournalism project photographing children eating ice cream in each country she visits.
After her gap year, Newman sees several potential paths for her career and education. She is considering the Peace Corps or Greenpeace, and has already applied to work at Food Corps to educate children about health and help them grow gardens. She is also interested in pursuing her master's degree in Germany, where she will branch out and pursue an environmental program. She also hopes to become a registered dietician. In whatever she does, Newman will strive to manage resources, protect the environment and nourish the people of the world.
"Given a worthwhile challenge — which for Taylor would mean doing something to make the world a better place — she would be willing to go most anywhere and try most anything to make a difference in the lives of people in need," Clay said. "She is committed to service and to the concept of helping others to help themselves, and is a great example of someone putting their faith into action."
---
By Lauren Spaunburgh, University Communications Intern
Produced by the offices of Information Technology Services, the Provost, Student Affairs, Undergraduate Studies and University Communications.