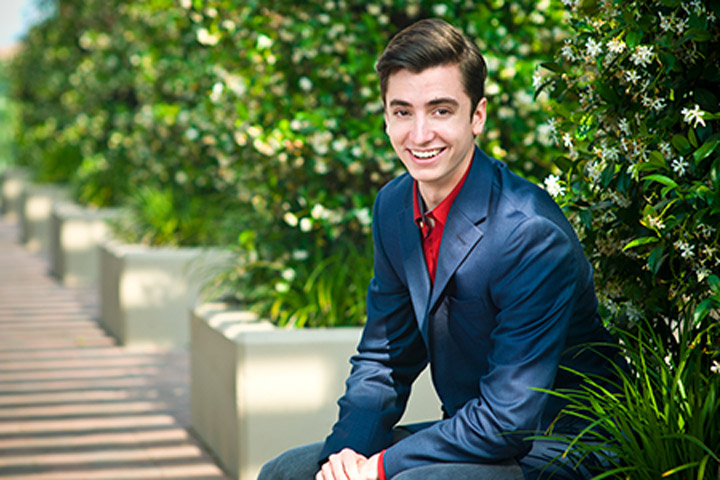 "I find it much more rewarding to take what you read or learn in class and go even deeper, rather than accept it at face value. That's what FSU urges us to do with the critical thinking initiative: to dig deeper."
Religion major David Miller believes there is potential for innovation when people work at the intersection of multiple disciplines.
"I find it crucial to connect disciplines in the natural sciences, humanities and social sciences in order to advance professional practices, which, in my case, relate to public health and medicine. To me, we must recognize that the health choices of individuals are often more affected by culture, religion and history than by science," said Miller, a senior and recipient of an Undergraduate Research and Creative Activity Award (URCAA).
"Some of our most innovative scientists, scholars and thinkers stood at the intersection of the sciences and the humanities," Miller said. "They recognized that this interaction of disciplines yields creativity and progress. These people motivate me to pursue multidisciplinary academic and professional work in order, ultimately, to benefit the people I hope to serve."
You might expect a student interested in health to major in biology, chemistry or a similar field. Though he is earning minors in these subjects, Miller incorporates an interest in public health and medicine into his study of religion. He finds it rewarding to "do his own thing" and combine all of his academic interests. Through his honors thesis, Miller currently studies the moralization of body weight and food choices within Evangelical thought and public health discourse. He seeks to understand the parallels and tensions that may arise when these realms — the secular and the sacred — meet.
During the summer of 2014, Miller had the opportunity to immerse himself in scholarly culture through fellowships at Yale University and The Hastings Center, a bioethics think tank in New York. During these experiences, he collaborated with and learned from bioethics students and professionals from around the world.
"I find it much more rewarding to take what you read or learn in class and go even deeper, rather than accept it at face value. That's what FSU urges us to do with the critical thinking initiative: to dig deeper," Miller said.
Outside of research, Miller stays involved with the FSU community. He and his peers are the founders of the Society for Practical Ethics at FSU, which meets biweekly to discuss contemporary bioethical issues. Last spring, he helped to organize and train a team of students to compete at the 2014 National Bioethics Bowl at Loyola University in Chicago. Becoming a part of this organization inspired Miller to pursue bigger undertakings.
In 2013, Miller's mentor, Florida State religion Professor Aline Kalbian, suggested that the society apply to host the National Undergraduate Bioethics Conference. With the help of the university departments of Religion and Philosophy, the College of Medicine, the Student Government Association and the Student Council on Undergraduate Research and Creativity, this idea will become a reality this April. Miller and his peers are organizing the first National Undergraduate Bioethics Conference and National Bioethics Bowl to be hosted on the Florida State campus.
"David is a model student, especially in terms of his energy and motivation in undertaking a rigorous research agenda. His most lasting impact has been in coordinating and organizing the upcoming National Undergraduate Bioethics Conference," Kalbian said. "It is a very prestigious conference, and thanks to David's hard work, FSU was chosen as the host institution. He has worked tirelessly over the past six months with a small group of fellow undergrads to organize every aspect of this major national conference."
Miller also is involved with the Swing Dance Club at Florida State, where listening to jazz music and dancing the lindy hop are part of a typical Friday night. A former president of the club, Miller worked to share the club's love for swing dancing with the FSU community by organizing workshops and regional dance conferences headlined by some of the world's most prominent swing dancers.
Miller became so passionate about swing dance that he studied its history during the summer of 2013 in London's British Library through a Mentored Research and Creative Endeavors Award research grant from the Center for Undergraduate Research and Academic Engagement. Miller credits his research abilities to his work with the Undergraduate Research Opportunity Program and an assistantship with Sonya Cronin, an adjunct faculty member in the Department of Religion.
By gaining these skills, Miller has been able to give back to the FSU community by leading undergraduates in UROP programs and colloquiums. It is because of his interaction with his mentors and fellow students that Miller appreciates being a Seminole. He feels he has learned from his time at Florida State that education is about learning new perspectives and pursuing one's own investigation.
"As students at FSU, we have all of these opportunities to learn and to gain really fantastic, unique experiences," he said. "We might not be granted this wealth of opportunities again, so why not take advantage of everything FSU has to offer? Why not try to learn as much as possible and make the most of your experience as a student?"
Although Miller's time at Florida State is coming to a close, his future is bright. After graduation, he plans to pursue a doctorate or medical degree, or perhaps both. He hopes that he will help improve the practice of medicine and public health, and that a diversity of approaches will ultimately support this progress. Miller appreciates the positive impact FSU has had on his education and career path, and he is excited about what the future holds.
---
By Lauren Spaunburgh, University Communications Intern
Produced by the offices of Information Technology Services, the Provost, Student Affairs, Undergraduate Studies and University Communications.