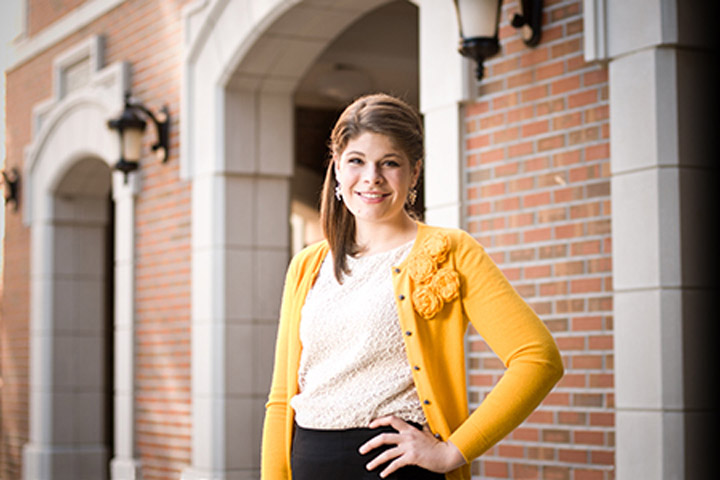 "My time at FSU has only reinforced my drive and passion to achieve my goals of learning Arabic, understanding the social, economic and political dynamics of the Middle East and so much more."
Madison Marks was just 16 and attending community college as a full-time, dual enrollment student when she knew she wanted to pursue Middle East studies.
While attending a conference, Marks met a group of Christian aid workers who told her stories about their service in North Africa.
"After that, I began to pay attention to current events and see some kind of future for myself in the Middle East in terms of employment," she said. "I became intrigued with several aspects of the Middle East — the language, the culture and the history — all of which made me want to study that part of the world."
It was an interest that was fed early on by her father who encouraged her to learn about her family history, including ancestors from Syria and a great-grandfather from Iran, as well as her family's religious roots in Christianity, Judaism and Islam.
"My dad preserved our family history and encouraged us to remember and to embrace other cultures and to explore different religions," she said.
Marks, a native of Jacksonville, Fla., chose to attend Florida State University because it offered the only Middle East studies major in Florida. Now a senior gearing up for graduation in April, Marks can boast a college career full of achievements that few can match.
In November, the 22-year-old Marks was named a finalist for a prestigious 2013 Rhodes Scholarship. Though ultimately Marks was not among the Rhodes Scholars selected for 2013, she was pleased to advance so far following a highly rigorous, months-long application and interview process.
"Going through the process of applying for fellowships, which began during my sophomore year, has allowed me to develop my weaknesses and embrace my strengths," she said. "I have learned the most about myself through the fellowship process, especially the Rhodes, and I am more well-rounded and confident in my gifts and abilities."
Her pursuit of the Rhodes followed her winning two scholarships that enabled her to spend a year studying abroad in Amman, Jordan — a $7,000 Winthrop-King Undergraduate Summer Scholarship in Arabic, funded through Florida State's Department of Modern Languages and Linguistics, and a highly prestigious $20,000 Boren Scholarship, funded by the National Security Education Program to focus on study deemed critical to U.S. national security.
After returning home from Jordan, Marks spent this past summer interning with World Relief Nashville, thanks to the FSU Center for Leadership and Social Change Moellership Program, which provides support for students engaging in a summer of service. Now with an advanced proficiency in Arabic, the program gave her the chance to apply the cultural and linguistic knowledge that she gained during her year in Jordan to working with refugees from a number of countries, from Iran and Iraq to Somalia and Ethiopia.
Along the way, Marks also completed a directed individual study on the Sudanese from the Nuba Mountains, and an Honors in the Major thesis, which focused on Internally Displaced Persons in Sudan. She completed both projects under the direction of Associate Professor Peter Garretson, co-director of the university's Middle East Center.
D. Craig Filar, director of the Office of National Fellowships, who helped guide Marks through the application process for the Boren and the Rhodes scholarships, said Marks is a unique student who is driven both to succeed and serve as an example to other students.
"Throughout her four years at Florida State University, Madison has striven to expand her abilities as a scholar and a humanitarian," Filar said. "She pursues a wide range of experiences that complement each other in a way that reflects her commitment to advocating for refugees and internally displaced persons. Since her return from her junior year in Jordan, Madison has been encouraging younger students to get involved in leadership and service in a manner grounded upon strong academic preparation and undergraduate research."
After graduation, Marks hopes to work for an international organization or think tank that aims to educate the public on social, economic and political issues related to the Middle East region. She also plans to pursue a master's degree in international development with an emphasis on migration studies. Her long-range goals include working in the State Department's Bureau of Population, Refugees and Migration.
"My time at FSU has only reinforced my drive and passion to achieve my goals of learning Arabic, understanding the social, economic and political dynamics of the Middle East and so much more," she said. "My professors and academic mentors have helped guide and point me in the right direction, offering sound and honest advice along the way."
---
Produced by the offices of Information Technology Services, the Provost, Student Affairs, Undergraduate Studies and University Communications.