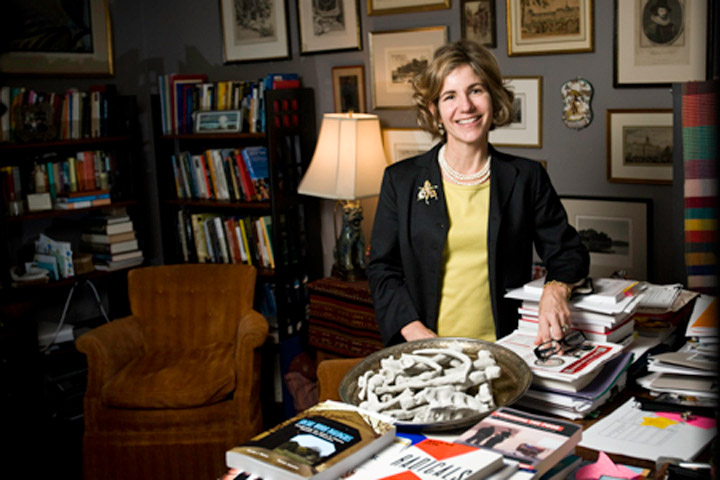 "I grew up around people who were doing good in the world, and I understood that it was my job to do the same."
Like most Florida State University graduate students, Jane McPherson finds herself in the midst of planning a life.
And, at 48, it's a second act of sorts.
People might have heard McPherson's name already as the principal organizer of One Million Bones/Tallahassee, a project that is intertwined with a national art-and-action effort intended to create awareness about the horrors of genocide and raise money for survivors.
It is one of the myriad human-rights issues she has tackled over the past 25 years since graduating from the Sidwell Friends School in Washington, D.C.
"I grew up in a family committed to social justice," recalls McPherson, now a doctoral student in the Florida State University College of Social Work.
"I grew up around people who were doing good in the world, and I understood that it was my job to do the same."
Whether helping drug-addicted women in New York City or migrant workers in the most rural reaches of the Florida Panhandle, McPherson has always strived to fulfill that lifelong promise.
A recipient of the prestigious Presidential Fellowship, which provided her with four years of funding to pursue her passion for human rights issues, McPherson enrolled in the doctoral program at Florida State's College of Social Work, where she says her teachers have been role models and "incredibly supportive."
Years ago, as a fresh graduate of Brown University, McPherson juggled tough caseloads as a protective services worker for abused and neglected children in Massachusetts. Young, overloaded and lacking proper training, she found the job bittersweet, constantly wondering how she could make the "fractured" system better.
"I was the 'legal parent' to 25 families worth of kids," recalls McPherson, who soon after enrolled in the social work and public health master's degree programs at Columbia University. "I thought it would be cool to have the job when I knew something, not as a beginner — but when I had more experience. I wasn't a parent then, something I have since learned is both humbling and educating."
Now a mother of two teenagers, she's reached a new level of experience in her academic, professional and volunteer work. Since coming to Tallahassee a decade ago, McPherson has taught as an adjunct in the College of Social Work, coordinated the infant mortality prevention program at Capital Area Healthy Start Coalition, and helped young mothers at Gadsden County Health Department.
In addition, she's designed — and supervises — an internship at the Washington, D.C.-based Torture Abolition and Survivor Support Coalition. With support from FSU's Center for the Advancement of Human Rights, she's also traveled to Brazil to learn about human rights based social work, published her research in the peer-reviewed journal, "Research in Social Work Practice" — and presented that research at national and international conferences.
She says that many "inspiring" professors at Florida State who have helped her find her way. McPherson is a great admirer of her major professor, Neil Abell, who "is a serious scholar, a wonderful teacher, and a truly ethical man."
Law professor and Florida State President Emeritus Talbot "Sandy" D'Alemberte, has also been pivotal. His International Human Rights class provided her with "remarkable background."
"Even more importantly," said McPherson, who hopes to find academic work at a university that values activist teaching and community engagement, "Sandy's encouragement and leadership have shown me that I can be part of the human rights movement in this country and beyond."
---
Produced by the offices of Information Technology Services, the Provost, Student Affairs, Undergraduate Studies and University Communications.