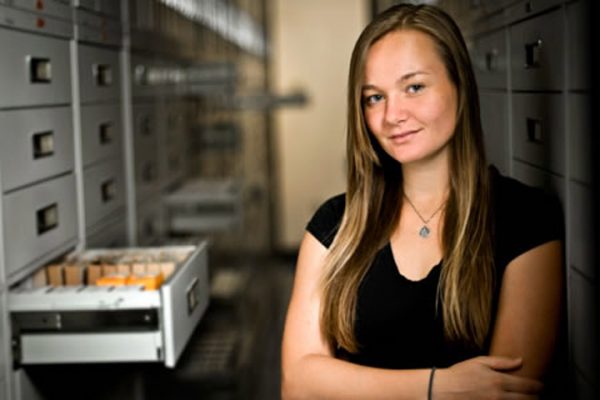 "Every student should try to find a way to spend time in another country."
Lindsay Ogles has always been intrigued by historical events of a tragic nature, so when she first began to learn about World War II, her attention was riveted to that dark period of human history.
A humanities major with an emphasis on 20th-century history, Ogles gravitated toward an examination of the youth of Germany during World War II — a group she feels has been neglected by historians. That research led to her earning an Undergraduate Research and Creative Activity Award at FSU last year.
With direction from history professor Nathan Stoltzfus, Ogles' studies took her to Berlin in the summer of 2011 to research Nazi Germany's child-evacuation camps. What she found prompted her to challenge the notion that the camps were primarily for the children's health and safety; she believes they were instead designed to prepare Germany's youth for Nazi service.
With minors in museum studies and German, Ogles was well prepared for her trip, which she feels was one of the best experiences of her life.
"I think every student should try to find a way to spend time in another country," she said. "For me, it provided an opportunity to stand in a spot that history will never forget."
For her honors thesis, the senior from Clearwater, Fla., scrutinized the so-called "baby farms" of Nazi Germany, where "pure-bred" women would conceive children for their Aryan qualities and then give those children up for adoption. Her examination of these attempts to breed "racially pure" children caused Ogles to wonder what could have persuaded the women to accept such a role in life.
Stoltzfus first met Ogles when she took a senior-level course of his as a freshman. The young honors-program scholar stood out with her insightful questions, and Ogles says Stoltzfus subsequently became an integral part of her academic support structure.
The rich history Florida State University itself possesses contributed to the perfect fit Ogles has achieved at the university. Her accomplishments include induction into the prestigious Phi Beta Kappa honor society, and Ogles plans to continue her studies at Florida State by pursuing master's degrees in history and library sciences in the fall.
---
Produced by the offices of Information Technology Services, the Provost, Student Affairs, Undergraduate Studies and University Communications.