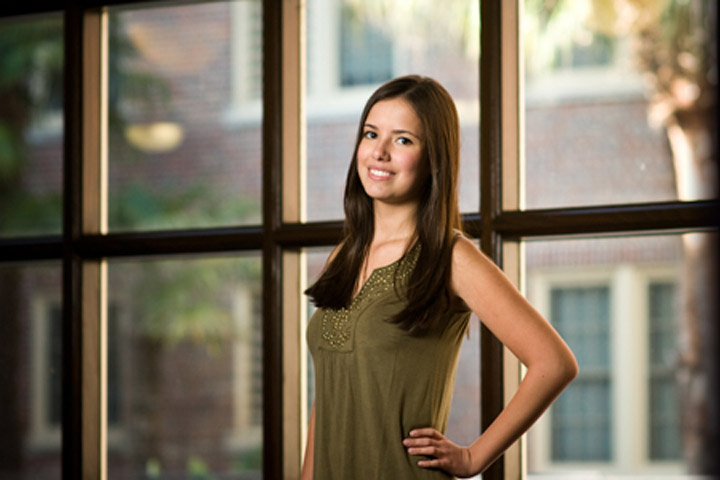 "I want to do all I can to solve the nation's most critical social problems."
The idea of leading a nonprofit organization, a government agency or a city as a public administrator can be daunting. However, Florida State University senior Juliana Crump is looking forward to the challenge of public service.
"With a career in public administration, I want to do all I can to solve the nation's most critical social problems," Crump said.
Crump has laid an impressive foundation toward a career in public administration through her coursework and other activities.
Originally, Crump was considering a career in law, but changed her mind after taking a class in public administration taught by Frances Berry, the Frank Sherwood Professor of Public Administration at Florida State.
"At the time, Professor Berry was the president of the National Association of Schools of Public Affairs and Administration," Crump said. "After taking her class, I realized I wanted to dedicate my life to the public sector."
Berry inspired Crump to consider earning a Master of Public Administration degree instead of a law degree.
"Julie has a passion for public service that is infectious," Berry said. "She has recently worked to help constituents as an intern for U.S. Senator Bill Nelson, and she volunteers tirelessly. She is a very articulate and poised young woman with great leadership and organizational skills. Plus, she is fun to be around!"
Crump has gained leadership experience through her affiliation with the Florida State chapter of Phi Eta Sigma National Honor Society, Florida State's largest honor society.
"Juliana is an extraordinarily talented communicator with a solid commitment to excellence and service," said Chris Boyd, the chapter adviser of Phi Eta Sigma. "Her leadership has enhanced the organization locally, regionally and nationally."
As a sophomore, Crump joined the chapter's Leadership Council. As a junior, Crump not only served as chapter president, but also attended Phi Eta Sigma's national convention as Florida State's delegate. As such, she was able to help pass an amendment to the national Phi Eta Sigma constitution to allow larger chapters to submit five undergraduate scholarship nominees each year, rather than three.
As a senior, Crump was selected to receive Phi Eta Sigma's James E. Foy Scholarship, one of 37 distinguished member scholarships given annually.
Currently, Crump serves on the chapter's executive board and is co-chairing the planning committee for Phi Eta Sigma's regional conference, which will be held on the Florida State campus in April.
"We are excited to be able to host our fellow Phi Eta Sigma chapter members from Mercer, Georgia Southern and Emory," Crump said. "I am definitely looking forward to a successful conference."
In addition to her membership in and service to Phi Eta Sigma, Crump currently serves as the vice president of Florida State's chapter of Phi Beta Kappa honor society. She also is a member of Phi Kappa Phi, Mortar Board and Golden Key.
Crump gained further experience during her junior year leading one of the university's Freshman Interest Groups for students who are interested in pre-law. The groups, known as FIGs, are intended to help students gain a better understanding of their studies, from anthropology to zoology.
"Every week, I met with and mentored 24 freshmen," said Crump, who created a syllabus for the semester and a lesson plan for each meeting. "I thoroughly enjoyed the opportunity to interact with and hopefully inspire young Seminoles. I learned as much from them as they did from me."
Crump's college experience also includes her work during the past two years checking out library materials to students and faculty members at the main service desk of Strozier Library. She also supervised a staff of 15 census-takers as an assistant crew leader during the 2010 U.S. Census.
"Getting to work in these professional settings has allowed me to gain confidence in my own abilities," Crump said.
After she graduates summa cum laude with Bachelor of Science degrees in political science and sociology, Crump will attend the George Washington University Trachtenberg School of Public Policy and Public Administration in Washington, D.C.
---
Produced by the offices of Information Technology Services, the Provost, Student Affairs, Undergraduate Studies and University Communications.