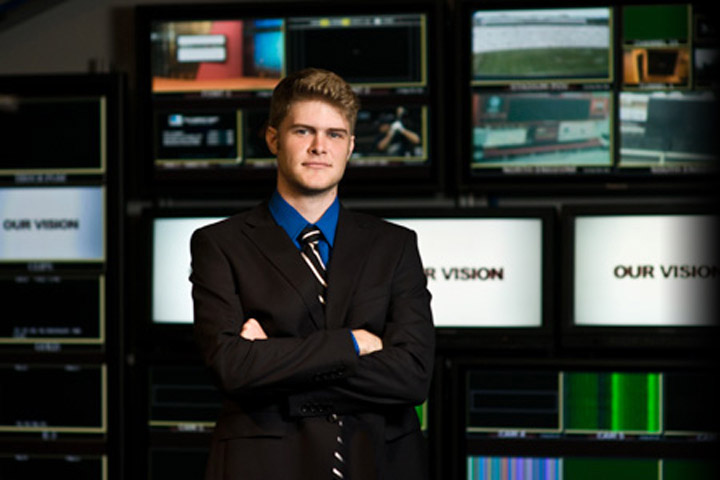 "I wanted to do creative writing and media production because I love the process of creation and storytelling."
Jesse Damiani is a storyteller in the making. While attending Florida State University, Damiani immersed himself in opportunities to learn the art of how to tell an effective story, whether on the page or in video.
"I wanted to do creative writing and media production because I love the process of creation and storytelling," Damiani said. "I really love that the career path I've chosen gives me so much latitude in working in a variety of different fields. At FSU, I had the good fortune of studying with some fantastic professors who really opened me up to exploring myself as a writer, rather than pigeonholing myself to one genre."
In his creative writing major, Damiani focused on storytelling through poetry by writing an Honors In The Major Thesis called "Your Language Is My Language." His writing was supervised by Department of English Writer-In-Residence Barbara Hamby, a prominent, award-winning poet.
"In my thesis, I focused on the development of voice and identity through persona, travel, confessional and narrative poems," Damiani said. "Working so intimately with Barbara Hamby not only helped shape the manuscript but my growth as a writer."
In his media production major, Damiani served as the director of photography on the award-winning student film "Goodbye Ben." The film, a look at one man's choices and regrets, won first place in the animation/experimental/mixed category at the Broadcast Education Association's 2011 Festival of Media Arts.
"Each kind of storytelling has its specific characteristics," Damiani said. "In film, viewers can see things like the setting and the characters' facial expressions. In written storytelling, the author has to use words to capture these same images."
Part of his Florida State education included studying abroad in Valencia, Spain, through the university's International Programs, and a trip to Ecuador with Alternative Break Corps during Spring Break 2010.
"When I went to Valencia in the summer of 2009, I tried to use my time to best improve my Spanish, both in my coursework and through the experience itself," Damiani said. "The following summer, I returned there as a program assistant and was able to apply my language and cultural skills in a work setting, which was truly an invaluable experience.
"My extended time in Spain also allowed me to meditate on what it means to be 'American' in the context of cultural immersion outside of the United States, as well as the idea of being a foreigner," Damiani said. "This ultimately grew into a big part of my Honors In The Major thesis."
Now that he has graduated from Florida State, Damiani will be attending the University of Wisconsin-Madison, where he will pursue a Master of Fine Arts degree.
"My focus at the University of Wisconsin will be in poetry, but fortunately I will have the opportunity to study fiction there as well," Damiani said. "I am excited that my time there will allow me to further explore myself as a writer to really figure out how I want to approach my career."
---
Produced by the offices of Information Technology Services, the Provost, Student Affairs, Undergraduate Studies and University Communications.