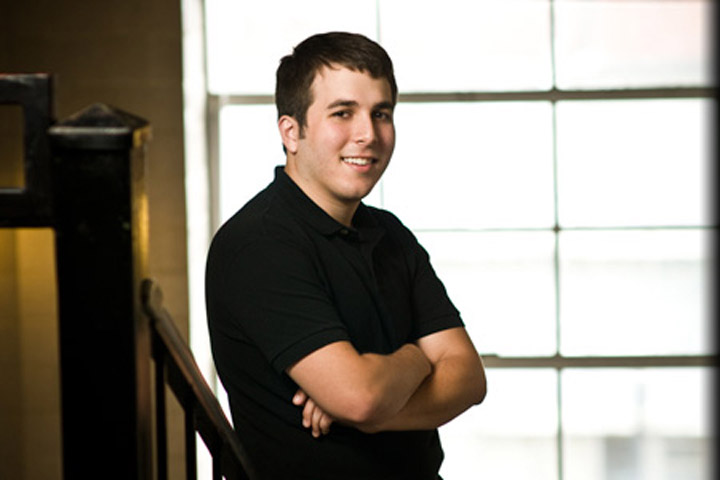 "I'd always dreamed of being a Seminole, and I wanted to study meteorology in one of the nation's best meteorology programs."
Google "multitasking" or "multifaceted" and you might find Cameron Gauthier.
After all, Gauthier earned degrees in both meteorology and Spanish and graduated magna cum laude with a minor in physics while leading K-12 science outreach efforts in local schools, writing opinion columns for the campus newspaper, and training young people to problem-solve peacefully.
Not one to rest on his laurels, the Tampa native is returning to FSU to pursue a master's degree in Spanish. Then he wants to be an environmental adviser and help bridge what he sees as the growing gap between science and the general public.
He also envisions a future run for mayor of his hometown.
Gauthier's experiences at Florida State have made many choices possible, but the decision to come to FSU was a simple one.
"I'd always dreamed of being a Seminole," he said, "and I wanted to study meteorology in one of the nation's best meteorology programs."
So his first major was a given. But, in his junior year, he took a Spanish class to build on the "5" he'd earned on his high school AP Spanish exam. He quickly rediscovered his love of the language and for the first time was exposed to Spanish literature, history and culture. Gauthier made Spanish his second major and the focus of his forthcoming master's degree.
Meanwhile, he sought challenges outside of the classroom as well.
As the science and outreach chairman of the American Meteorological Society's North Florida chapter, Gauthier recruited science fair judges for local grade schools and helped create lessons and demonstrations that made science education more comprehensible and engaging.
As a mentor and teacher for "PeaceJam Southeast" and the community-service vice chair for PeaceJam FSU, he worked with students in grades 4-12 to raise their awareness of global issues, instill a sense of social responsibility, and hone the skills needed to work together toward a more peaceful future.
And as a staff writer for the FSView, Gauthier continues to write forthright opinion columns that address issues important to the lesbian, gay, bisexual and transgender (LGBT) community, including young LGBT men and women at FSU.
"I hope my readers have gained a better understanding of the unique challenges faced by some of their fellow students," he said.
After his graduate degree is done, Gauthier sees himself working to raise public awareness of environmental issues that threaten the health of future generations.
Google "Tampa mayor" in a decade or two and you might see this Florida State alumnus.
---
Produced by the offices of Information Technology Services, the Provost, Student Affairs, Undergraduate Studies and University Communications.