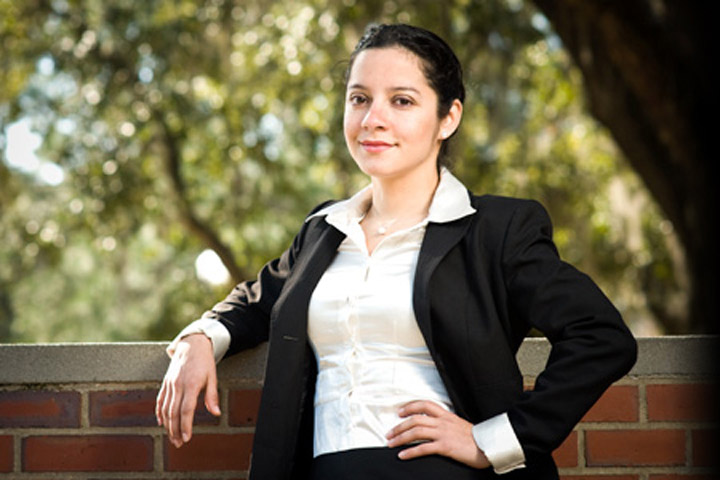 "I want to give the best of myself without any conditions."
Alicia Berrios has high aspirations, to say the least. The Florida State University senior dreams of one day being elected president of her native Nicaragua — the poorest country in Latin America. However, even if she never reaches that high office, Berrios intends to do all she can to reform that country's political landscape.
"Ideally, I want to get involved in politics in the United States first so I can take that experience back to Nicaragua and try to strengthen the ethics of public service and promote democracy," said Berrios, who is a U.S. citizen. "I do not believe in communism or socialism because my country has suffered under these systems."
Even now as a student at Florida State, Berrios is working to improve the lives of the Nicaraguan people.
In September 2010, she established Onearth, a registered student organization at Florida State intended to encourage world peace, unify humanity and make a difference in the world by assisting the underprivileged population with basic needs.
"I'm a giver," Berrios said. "I want to give the best of myself without any conditions. I believe that service with love and compassion moves mountains and it allows humans to connect with their inner spirits."
As Onearth's first outreach effort, Berrios and six other Florida State students spent five weeks in El Sauce, Nicaragua, this past spring teaching English to 110 elementary school students, as well as some of their teachers and parents, and teaching music to 30 students at the local Catholic church.
"These students need this early, basic introduction to English because when they get to high school and start taking English classes, they struggle," Berrios said.
During their trip, Berrios and her fellow FSU students also made a documentary, "Pies Descalzos" ("Barefoot"), which she narrates. She is hopeful that it will be screened on the Florida State campus in August.
"Nicaraguans are good and hardworking people," Berrios said. "They need opportunities and jobs, and above all, education."
Berrios plans on returning to El Sauce in August to personally distribute such things as musical instruments, computers and school supplies, clothing and shoes, and toys to underprivileged families and schools. Over the past school year, she scoured Tallahassee collecting the items to be donated.
"Alicia is one of the most driven, passionate, enthusiastic people I know," said Heather Stitely, a community engagement program coordinator with the FSU Center for Leadership and Civic Education who is the faculty adviser to Onearth. "She now wants to pass on her passion to other FSU students to continue the mission of Onearth, making positive, sustainable change in the world. I am confident that Alicia will continue on her quest to make the world a better place."
After she graduates this summer with her bachelor's degree in international affairs, Berrios plans on pursuing a master's degree in public administration at Florida State.
---
Produced by the offices of Information Technology Services, the Provost, Student Affairs, Undergraduate Studies and University Communications.