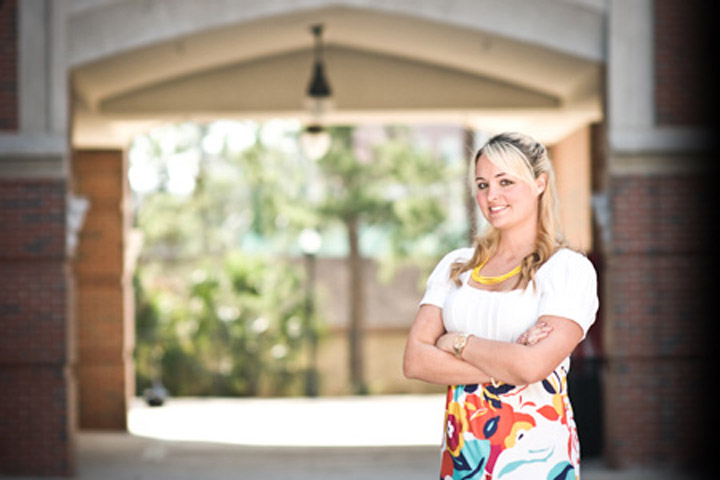 "A fair amount of learning in college takes place outside the classroom."
Melbourne, Fla., native Savannah Steele appears to embody the words of educator and activist Booker T. Washington, who once said, "If you want to lift yourself up, lift up someone else."
With nearly 700 hours of community service to her credit, one might think it would be difficult for Savannah to adequately attend to her studies. On the contrary, she maintained a 3.3 GPA while double majoring in Communication and Psychology, and became an inaugural member of the Garnet and Gold Scholars Society. As if those accomplishments weren't impressive enough, Savannah also earned a Global Pathways certificate, a program through which students document their international and intercultural experiences.
It was through her extracurricular activities, however, that Savannah realized, as she puts it, that "a fair amount of learning in college takes place outside the classroom." The opportunities for such learning that Savannah availed herself of were not just numerous, but remarkable too.
Through her participation in Lady Spirithunters, an athletics fan-support and community service organization, Savannah was involved in Homecoming, Relay for Life, and her personal favorite, Dance Marathon. She also attended every varsity athletic event at least once and never missed a home football game during her four years at FSU.
In her senior year, Savannah was vice president of Phi Alpha Delta Pre-Law society, secretary of Omicron Delta Kappa honor society, and a member of Caring and Helping in Community Service, Student Boosters and the Student Alumni Association. In addition, she maintained her involvement with the Psi Chi and Garnet and Gold Key honor societies.
Savannah also served in the Peer Involvement Counselors program, where she and her fellow volunteers helped other students find areas of study and involvement where they too could thrive.
With four rich and fulfilling years at FSU now to her credit, Savannah plans to attend law school in Louisiana this fall.
---
Produced by the offices of Information Technology Services, the Provost, Student Affairs, Undergraduate Studies and University Communications.