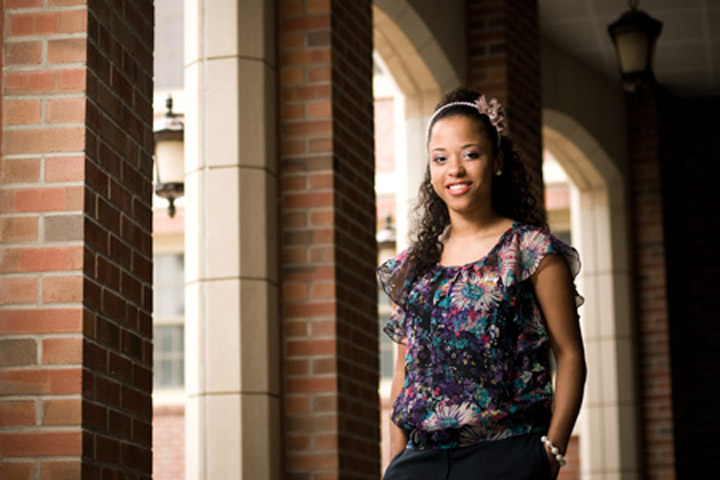 "While here at Florida State, my dream was to become a well-rounded and culturally aware individual."
Florida State University senior Kai'Triana Gully was not the least bit out of place in attending this year's New Student Convocation, the ceremonial first step into the university's life and traditions for new students. Gully stood proudly before the incoming freshman class as a student leader, one of 26 exemplars chosen to model the high standards that Florida State sets for its students and that serve as an inspiration for what they can achieve.
"While here at Florida State, my dream was to become a well-rounded and culturally aware individual, and a goals-oriented role model for women," said Gully, who entered Florida State as a freshman in the fall of 2006.
Beginning with her first year, Gully began to leave an indelible mark on campus. In the spring of 2007, she was inducted into Phi Eta Sigma, the national honor society for first-year college students. What's more, during her college career, she maintained no less than a 3.5 GPA and was inducted into four other academic honor societies, including the FSU Chapter of the Order of Omega, of which she served as president for 2010-2011.
But it was in 2008 when Gully made what was perhaps her greatest impact on campus. Along with six other Florida State students who shared her drive for excellence, high ethical standards and a passion for mentoring, she co-founded the FSU Chapter of Hermandad de Sigma Iota Alpha, a sorority for Latina women.
"It has been through this sorority that I have been able to form direct connections with college women who are younger and in need of direction — professionally, academically and otherwise," Gully said.
During the past three years, Gully has nurtured her sorority's chapter by serving in different leadership capacities, including as president during the 2009-2010 academic year. During that year, the chapter's membership increased by 50 percent.
Under Gully's leadership as president, the chapter was recognized for the hundreds of hours of volunteer community service it performed by being named the Undergraduate Chapter of the Year for 2009-2010 out of all Sigma Iota Alpha chapters. The chapter also was recognized for the more than $1,000 it donated to various charitable organizations by being named the Undergraduate Philanthropic Chapter of the Year for 2009-2010 by the National Association of Latino Fraternal Organizations.
In recognition of her leadership, the chapter named Gully as Sister of the Year for 2009-2010.
"It is my hope that when I graduate from Florida State, the niche that I helped to create through Sigma Iota Alpha will remain just as successful and empowering as it was the year we founded it," Gully said.
---
Produced by the offices of Information Technology Services, the Provost, Student Affairs, Undergraduate Studies and University Communications.