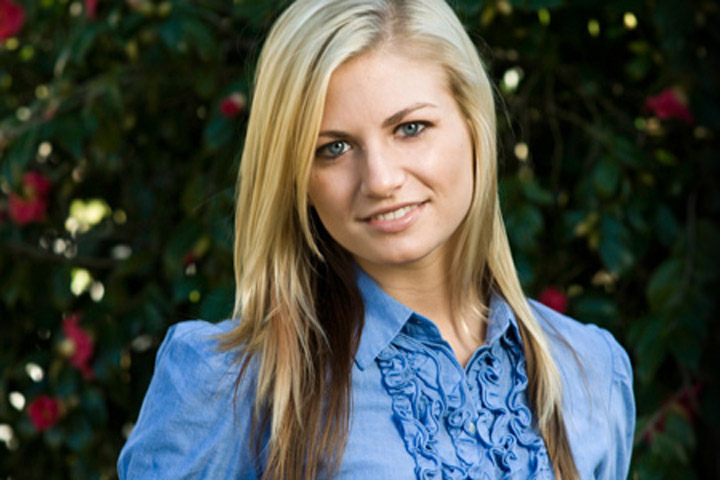 "I love research and recognize it to be the driving force that has made psychology what it is today — empirically supported."
Even as a high-school student, Grace Norberg knew that she wanted to use her keen ability to listen and sense of empathy to become a psychologist.
"I have always been someone people feel they can talk to about their problems," said Norberg, a Florida State University senior scheduled to graduate this spring.
Norberg chose to attend Florida State because of the stellar reputation of its psychology department. To stay true to her goal, she has taken every opportunity to participate in undergraduate research at Florida State through Directed Individual Study projects or Honors Program work.
Currently, Norberg works in the laboratory of one of Florida State's most distinguished psychology professors, Thomas Joiner — the world's leading expert on suicide. Under Joiner's direction, Norberg wrote an honors thesis, "Suicide in Anorexia Nervosa."
"Writing an honors thesis has given me insight into tasks that will be expected of me in graduate school and provided me with valuable experience in scientific writing, as well as independently designing and implementing a research study," Norberg said.
Norberg has further honed her writing skills as a senior staff writer at the FSView and Florida Flambeau.
"Grace's unique combination of drive, intellectual capabilities and experience lead me to believe in a very bright future for her," said Joiner, who is the Robert O. Lawton Distinguished Professor of Psychology. "She can think both clearly and creatively — relatively rare at any level."
Over her college career, Norberg has gained additional experience participating in a two-month internship program at a state mental hospital in North Carolina, volunteering at a state mental hospital in Florida, and teaching a Freshman Interest Group class at Florida State.
"While I was interning at the state mental hospital in North Carolina, I shadowed a psychologist on a criminal ward and accompanied her to group and individual therapy sessions," Norberg said. "At the Florida State Hospital, I volunteered as a research assistant and I sat in on a women's therapy group to gain a better understanding of what I might be doing in the future as a therapist."
What's more, Norberg volunteers at 2-1-1 Big Bend as a telephone hotline counselor, answering calls from people who are suicidal or are in some other kind of crisis, or who need to be put in touch with community services.
Norberg plans to attend graduate school to work on a doctorate in clinical psychology, then go into private practice. She also hopes to simultaneously conduct research in a university laboratory on eating disorders, drug abuse or adolescent social problems.
"I love research and recognize it to be the driving force that has made psychology what it is today — empirically supported," she said.
---
Produced by the offices of Information Technology Services and University Communications.