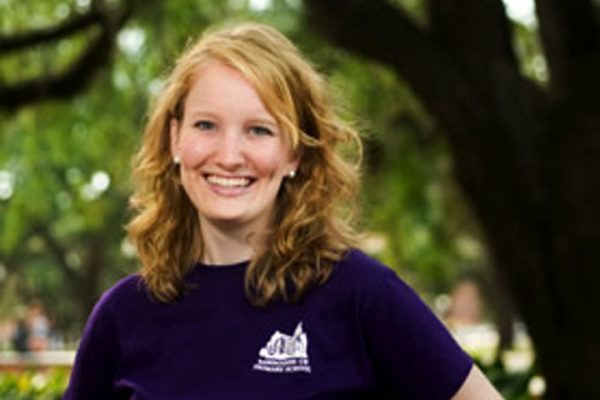 "Florida State University has one of the best elementary-education programs, and I wanted to be part of it."
As a little girl Meghan Reina loved to play school. Dolls and stuffed animals were her students. "I always knew I wanted to be a teacher."
Even as a child, she had a pretty good idea what being a teacher entailed. Meghan's mother is a special-education teacher, her grandmother was a high-school teacher and her great-grandmother was a teacher, too. "She taught in a one-room schoolhouse in Sidney, Nebraska," a small town in the Western part of the state.
Meghan decided to attend FSU because of its "exceptional college of education," she said. "Receiving the best education is very important to me. … Florida State University has one of the best elementary-education programs, and I wanted to be part of it."
Ruth Feiock, who taught the Introduction to Education course Meghan took in 2008, was impressed by her student's "intellectual curiosity, enthusiasm and initiative. Throughout the course, she consistently displayed truly insightful understanding of the material," said Feiock.
Meghan lights up when she talks about teaching. "She has a passion for sharing ideas with children and getting them excited about learning," said Feiock.
Two transformative events in Meghan's college career happened within days of one another during her sophomore year. First was winning a Mentored Research and Creative Endeavors Award, which provides a stipend to FSU students for summer research or creative activity. "This award opened so many doors for me," said Meghan, including the opportunity to go abroad to learn about elementary education in England.
A couple of days after hearing about the award, "I got news that I was accepted into the elementary-education program … (It) is one of the most competitive programs at FSU. … Within a couple of days, my life changed. "
Meghan traveled to the small town of Warminster, England, to observe first- and second-grade students at the Sambourne Church of England Primary School. Meghan's research focused on one of her passions, social studies, and effective ways to teach the subject.
"Mrs. Feiock inspired me to do research. Without her help, none of this would have been possible," said Meghan.
"It was an experience I will never forget," she said.
The school was small and so were the classes. The teachers were professional and friendly and there was camaraderie among them Meghan enjoyed. "The teachers really were a community."
Meghan was especially impressed by the approach to teaching young children about religion. "The teachers were very open," she said.
Meghan will graduate after the 2011 spring semester. "I fell in love with the British people and the culture. I would love to return to England and teach," she said. "I am still working out how this can be done, but I have learned nothing is impossible while at Florida State."