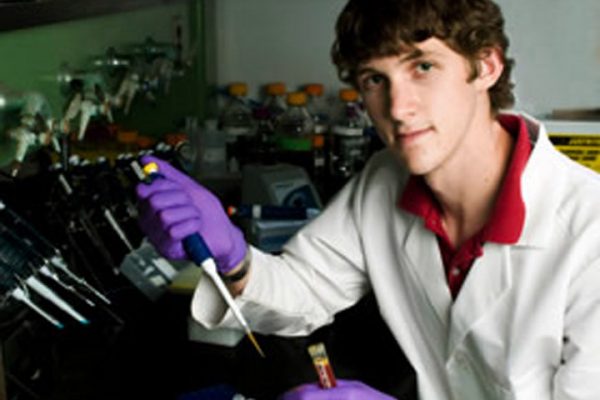 "I am extremely fortunate to be able to work on the cutting edge of environmental research."
When Will Overholt visited Florida State, he was impressed with the openness and patience of the Department of Biological Science's faculty. "The campus had everything I was looking for: top ranked faculty, beautiful grounds, great programs, interesting people, and a dynamic intellectual ambiance." He also hoped that he would be able to work closely with faculty conducting novel and relevant scientific research.
The Department of Biological Science has exceeded his expectations, offering both a challenging academic program and substantive hands-on experiences in the field through internships and research. In 2008, Will began interning with Joel Kostka, professor of biogeochemical oceanography. His work focuses on "understanding how microorganisms can be used to remediate sites contaminated with high levels of uranium."
Last April, Will presented his research at the annual Florida State University Undergraduate Research Symposium. In May 2009, he traveled to Philadelphia and presented a poster on his research at the American Society for Microbiology general meeting. He is continuing his research for his Honors in the Major Thesis; the Honors Program granted him a Bess H. Ward Honors Thesis Award to support his research.
Will values his research experience at Florida State. "I am extremely fortunate to be able to work on the cutting edge of environmental research," he reflects. "I have also benefited tremendously from the close mentoring of professors here at Florida State University. I think I am working in one of the top microbial ecology labs in the country."
He has worked to make the most of his academic and campus life experience at Florida State. Will has a 4.0 GPA, is an Honors student, and is a member of several honor societies, including Phi Beta Kappa. He is the president of the Florida State Fencing Team, which gives demonstrations and teaches classes as well as competes in regional tournaments. He recently completed the requirements for the Certificate in Marine Biology from the Department of Biological Science. Will credits the supportive Florida State faculty as important contributors to his success: "I've done well because the professors keep the classes interesting and I like to get as much out of the class as I can."
Will remembers his childhood in Nairobi, Kenya, as he plans for the future. "Living overseas in a third world country made me realize the immense opportunities open to all in the United States," he says. "I see problems around me and I want to solve them. I would like to pursue a Ph.D. in Microbial Ecology and work in a lab engaged in bioremediation projects, energy generation projects, and microbial community dynamics."