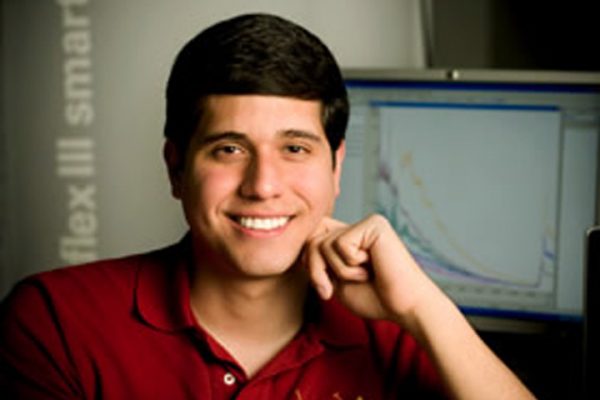 "I thoroughly enjoy working in the lab and being a true scientist/ investigator"
Javier exemplifies the idea that research and service are integral to an undergraduate education.
As the first person in his family to attend college, Javier Ramirez was unsure of what to expect from a university. The resources available at The Florida State University gave him confidence that he would be successful in pursuing his degree. As he prepares to graduate from The Florida State University in spring 2010, his accomplishments over the past four years are inspiring.
Javier received the 2008-2009 Charles A. and Louise I. Brautlecht Scholarship in Chemistry for outstanding academic excellence and substantial research contributions. He is a member of the American Medical Student Association, Alpha Epsilon Delta Pre-Medical Honor Society, and Phi Eta Sigma Honor Society.
The Office of Undergraduate Research and Creative Endeavors honored Javier with a Mentored Research and Creative Endeavors Award to support his undergraduate research on severe liver damage caused by excessive alcohol (ethanol) consumption. Over the summer, he worked under the direction of Mark Kearley, a professor with whom he has developed a friendship and partnership. "Dr. Kearley has been a friend, a partner and, most importantly a mentor. He is someone whom I will remain in contact with throughout my career and life."
Undergraduate research has significantly impacted Javier. The process of research has been exciting for him: "I thoroughly enjoy working in the lab and being a true scientist/investigator." This experience has given him the confidence to continue to ask questions and the ability to try to find the answers.
His goal for his Honors in the Major research is to further explain the biochemical role of protein adducts in alcohol-induced liver injury, and his work with Dr. Kearley could have significant implications in the field. "Although pathogenesis and the macro-biology of this subject have been studied, still very little is known about the events leading to alcoholic liver injury on a chemical level," he explains. "My results will open new paths of exploration in this field and hopefully contribute to solving the problem of alcohol-induced liver damage."
Javier has also completed numerous community service activities that reflect his interest in helping children and his desire to become a physician. "Over the past few years I've learned a great deal about responsibility and about myself through volunteering in various organizations, and I'm a better person for it."
His contributions include being a camp counselor for the Tallahassee Memorial Healthcare Diabetes Center Family Weekend and Cancer Family Weekend at Camp Boggy Creek; participating in and leading Alternative Break Corps trips to the Everglades and the Arkansas Children's Hospital; assisting with the construction of six Habitat for Humanities houses; mentoring students at Ruediger Elementary School; and building a playground at the Florida State University Elementary School.
Javier believes that his volunteer work, research and coursework complement each other. His experiences both inside and outside the classroom solidified his decision to study science and then medicine. After graduation, he plans to attend medical school to earn an M.D. or M.D./Ph.D. "Ultimately I want to be a practicing physician, but I would like to one day continue doing research."