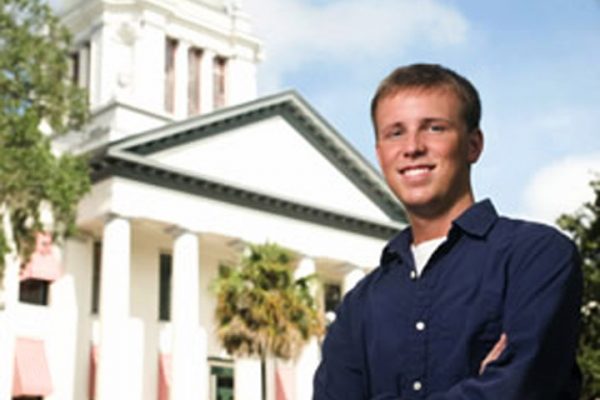 "My exposure to professional researchers at Florida State has greatly fueled my interest in political science."
DJ Flynn has taken advantage of research and first-hand experiences to prepare for a career in political science. His experiences include interning for two summers in Washington, D.C., for the Office of Congresswoman Corrine Brown and working for the campaigns of Senator Bill Nelson, presidential candidate John Kerry and President Barack Obama. His experience in Washington exposed him to a variety of issues and confirmed his goal to enter national politics as a representative of Florida.
He also has experience counseling students as a peer advisor and tutor with Phi Eta Sigma Honor Society and as a student justice for the Florida State Dean of Students Department. Both his 3.94 GPA and induction into Phi Beta Kappa Honor Society reflect his excellent achievements in the classroom as well.
His favorite professor, Jennifer Jerit, has served as his instructor and mentor. "I took my first course with Dr. Jerit in the fall semester of my sophomore year and quickly became interested in her research areas, which focus on public opinion and political psychology." DJ soon began working with her as a research assistant in the Political Science Department.
His research with Dr. Jerit focuses on identifying variables that affect the extent to which ordinary citizens gain political knowledge from the mass media. The Office of Undergraduate Research and Creative Endeavors presented him with a Mentored Research and Creative Endeavors Award last summer, which provided a $1,000 grant to support his research.
Working with Dr. Jerit and Jason Barabas, another member of the faculty in the Department of Political Science as an undergraduate researcher has inspired DJ: "My exposure to professional researchers at Florida State has greatly fueled my interest in political science."
He was also awarded an ACC Study Abroad Scholarship from Florida State International Programs. He spent the fall 2009 semester studying abroad in Valencia, Spain. "My time in Valencia introduced me to a country that is both historically and culturally unique, and gave me a tremendous opportunity to study in a part of the world that is too often overlooked by students the United States," DJ shares. "I'm confident that my time in Valencia will aid me in my future endeavors, both on and off the campus in Tallahassee."
As graduation approaches, DJ has his eye on graduate school and on Capitol Hill: "I plan to attend graduate school directly after completing my bachelor's degree and work toward a Ph.D. in political science." He hopes to become a professor at a research university where he can both teach and conduct research. He also aspires to run for elected office and perhaps serve in Congress someday.