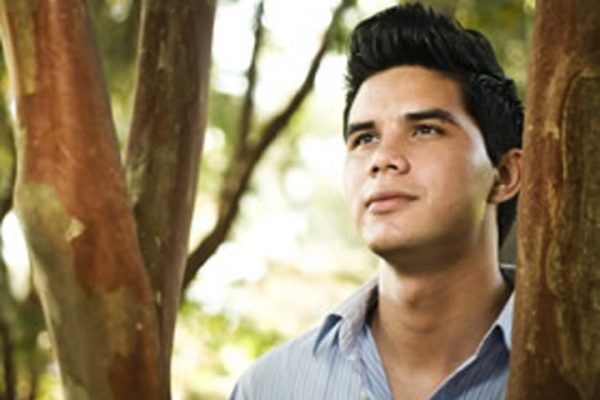 "I have really had the chance to develop here and gain momentum going into the next stage of my life."
As much as he practiced all winter, nothing prepared Julian Toha for the feeling of performing with the Florida State University Philharmonia Orchestra last February, under the direction of conductor Alexander Jimenez.
"After I finished playing on the first night, I got up after an exhausting 30-minute concerto, gave the conductor a hug, shook the hand of the first violinist, and then faced the audience. A full house of people were on their feet clapping and shouting as loudly as possible. It put me in shock. I kind of just stood there for a second before bowing; I saw my whole time here at FSU play as a movie before me."
Julian was awarded the opportunity to perform the Barber Concerto for Piano and Orchestra, Op. 38, with the Philharmonia Orchestra (the College of Music's undergraduate orchestra) as the winner of the Young Artist Concerto Competition at the College of Music. He competed with juniors, seniors and master's students for this honor.
His performance with this orchestra is one accomplishment among a series of prestigious regional, national, and international competitions and festivals. Over the last year, Julian's skill in piano performance has taken him across the nation and the world, including Italy, France, Spain and Germany.
In Fort Lauderdale, Julian performed with the Ars Flores Symphony Orchestra as the first place winner of their annual Young Artist Concerto Competition. At the Eastern Connecticut Symphony Orchestra Instrumental Competition, Julian was the only pianist selected as a finalist. Performing before nationally and internationally recognized judges at the LaGrange Symphony Orchestra Young Artists Competition, Julian won second place and the Max Kaplan Award. He was also one of the youngest competitors in the 13th Biennial International Beethoven Piano Sonata Competition, where he advanced to the semifinal round.
This success has not come easily, and Julian credits his favorite professor, Leonard Mastrogiacomo of the College of Music, with helping him persevere through the intense preparations and competitions. "He really helped me to push through the disappointments. His lessons have always been very personal and engaging. He turned me into the pianist I am today."
Though music has always been his priority, Julian has effectively balanced his studies with the demands of his performance major. His artistic talent and scholarly abilities have been recognized by the College of Music, which named him the 2009 Presser Award winner. This award honors students who exhibit excellence in both music and academic performance.
Unique opportunities in the Tallahassee community have also offered Julian the chance to perform. He is a staff pianist at Good Shepherd Catholic Church, the company pianist for The Tallahassee Ballet, and a pianist for the Florida State Department of Dance.
"My work in the community has brought me a great deal. Between both ballet jobs, I have improved so much as an artist. Connecting movement with the music that I improvise has changed so many of my views on music. The dancers are beautiful to watch because they, just like me, are communicating through their art form. There is nothing else like it."
Florida State University has helped to prepare Julian for an exciting future in music. "I have really had the chance to develop here and gain momentum going into the next stage of my life. From Professor Mastrogiacomo to playing for the ballet, I have taken in everything and really have found myself artistically. Of course I still have a ton of work to do; I am definitely on the right path."