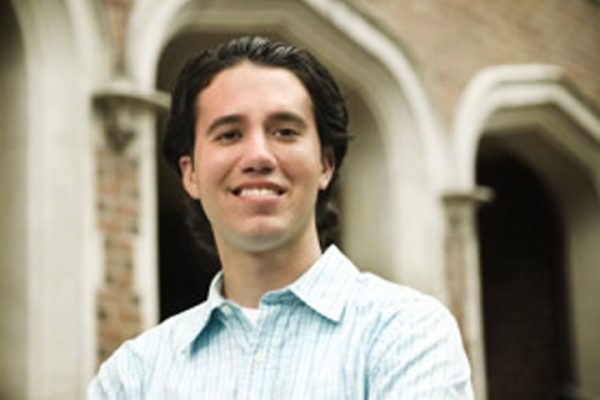 "I leave FSU with sincere appreciation for a learning institution that helped me excel."
Lulio Vargas-Cohen spent the summer helping keep track of more than 400 high school students a week in Washington, D.C.
It also was a learning experience that helped the Puerto Rican native win a highly competitive Fulbright grant to teach in Spain this year. Vargas-Cohen graduated in May with a degree in International Relations from the College of Social Science and Public Policy at The Florida State University.
Vargas-Cohen was a junior in high school in Boca Raton the first time he attended the Future World Leaders Summit within the Presidential Classroom program. He recalls learning about different spheres of Washington politics — business, military, civil. He saw well-dressed people in suits and ties rushing around, involved in important business, glued to their BlackBerries.
"I was thinking there was really no role for me, some kid from Puerto Rico," he said.
But one year in the ROTC at Florida State changed his mind. "I obviously learned about the military dynamics of the U.S. government, but I also gained more confidence in my potential," said Vargas-Cohen, who earned the Air Force ROTC Academic Honors Award.
By graduation, he had been a research assistant for Jennifer Jerit, assistant professor in the Department of Political Science, decoding information on citizen competence on political and social issues. He had been named an "Eastside Angel" for his work as a resident assistant in Bryan Hall and Broward Hall. He was a President's and deans' list scholar, named to Phi Beta Kappa and honored with the Florida Senate Spirit of Service award.
He also was selected as a Fellow in the Public Policy and International Affairs Junior Summit Institute at the Woodrow Wilson School of Public and International Affairs at Princeton University. The program is a national consortium of top graduate schools to prepare college juniors for advanced degrees and careers serving the public.
"I learned a terrific amount, focusing on the security of Europe's energy resources and transit thoroughfares," Vargas-Cohen said. He received no college credits but studied subjects ranging from national intelligence to memo writing.
He believes his opportunities through Florida State were heightened by the university's location in the state capital. "This dynamic relationship strengthens FSU," he said.
In particular, classes with Mark Souva, associate professor in the Department of Political Science, helped Vargas-Cohen clarify his professional aspirations. "Professor Souva's adroit analysis strengthened my understanding of the international system and U.S. strategy," Vargas-Cohen said. "I read articles that exposed me to new issues, learned to write lucidly on foreign policy topics and gained an appreciation for scholarly literature in the field."
Vargas-Cohen plans to seek a graduate degree in public policy when he completes his Fulbright year in Leganes, a suburb of Madrid, and hopes to secure a position in foreign affairs.
"I came to FSU with only a basic knowledge of the university's storied history," he said. "I leave FSU with heartfelt respect for the university's traditions and sincere appreciation for a learning institution that helped me excel."