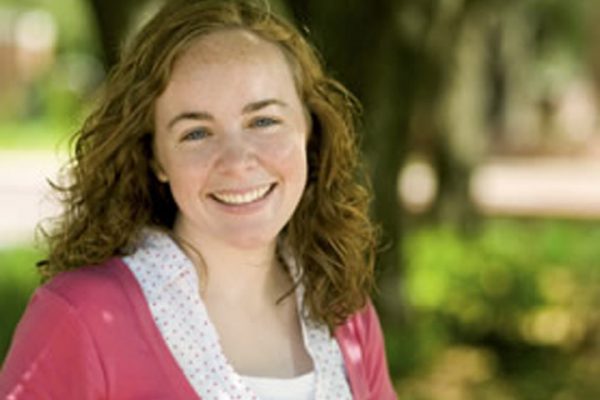 "I chose Florida State because I felt a welcome that I didn't feel anywhere else. It was so much more homey with everything in one central location."
On family mission trips to Africa and Haiti, Florida State student Ashley Danley met people who drank water from wells infected with e-coli bacteria that can cause serious illness and death. In fact, UNICEF statistics show that 2 billion people across the world don't have a safe water source.
She decided she could do something about it.
"I always wanted to be an engineer and help the world — I discovered I could do both," said Danley, who has a double major in environmental engineering and civil engineering.
Danley, although only a junior, already has demonstrated her passion to use her technical knowledge to help impoverished people in developing countries as founder of the Florida State University group "Dare to Love: Project Haiti," whose members designed and built sand filters in March to improve the water quality in two small Haitian villages.
She recently became the first Florida State student in 13 years to win the Morris K. Udall Scholarship awarded to college undergraduates for leadership in environmental public service.
"I really appreciate the fact that Florida State allows students to create organizations," Danley said. "I chose Florida State because I felt a welcome that I didn't feel anywhere else. It was so much more homey with everything in one central location. And the College of Engineering has a great reputation."
Danley studied water treatment methods in developing countries in the university's Directed Individual Study program, which provides the opportunity for undergraduate students to conduct research for credit under the guidance of a faculty mentor. Her mentor was Amy Chan Hilton, an associate professor in Civil and Environmental Engineering, whom Danley describes as a "professor who knows how to reach students and teach complex subjects."
Hilton, associate professor and undergraduate program coordinator in the College of Engineering, said Ashley excels in and out of the classroom. "I expect that Ashley will be a leader in the environmental engineering field and will serve areas of great need," Hilton said.
Danley figures she spent 50 hours a week on her studies and as a research assistant for Professor of Geotechnical/Environmental Engineering Tarek Abichou on greenhouse gas emissions from landfills, but she also took time to play intramural softball on a team that made it to the championship game.
She took the summer off for her wedding in July in her hometown of Cape Coral, Fla., to FSU alumnus James Thomson ('08). Danley plans to eventually earn her Ph.D. in environmental engineering while Thomson continues his studies in religion to become a pastor. They then intend to move to Haiti.
The couple went to Haiti last year on a mission trip with Danley's father and brother to build garden screens for shade. "In northwest Haiti, there is vast deforestation so it's really hard to grow a garden," Danley said. "But if you don't have a garden, you don't have food."
Danley's first mission trip was to Africa with her parents in her senior year in high school, and she thought she would spend her life there. Then she went to rural Haiti and got more practical.
"It's a lot like Africa — the poverty, the need — but Haiti is just a two-hour flight," she said. "I think I can make a huge impact on Haiti."
Half the rural population in Haiti has no safe drinking water source, and 86 percent do not have adequate sanitation facilities. More than half of the population survives on less than $1 (U.S.) a day.
Only a small team from Danley's "Dare to Love: Project Haiti" went on the mission trip this year, but the goal is to send 15 people next year at a cost of $1,000 per person. Fundraising projects include making and selling jewelry on campus and at local festivals and holding "poker" tournaments where everyone pays a cover fee and everyone wins prizes.
"Ashley exemplifies the spirit of an environmental and civil engineer," Hilton said.