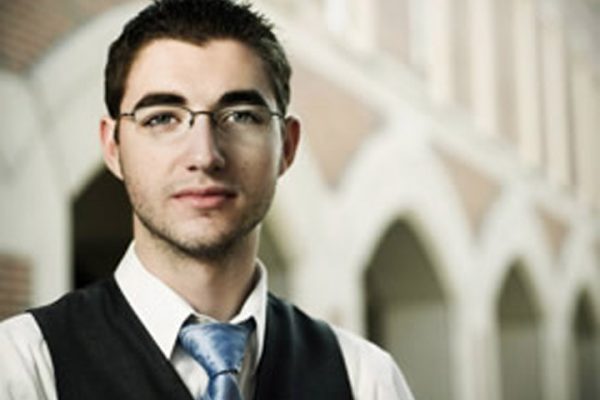 "FSU has given me so much — the tools and the knowledge base to go into the scientific community and make a difference."
Even before starting his senior year, Ali Darkazalli has tracked stem cells in adult brains as a research intern at the National High Magnetic Field Laboratory at The Florida State University, earned certification as an EMT to be a first responder for campus emergencies and organized Breathe Easy Zones to cut down exposure to second-hand smoke on campus.
And he still finds time to sit by the pool with his girlfriend.
"The key," he says in an understated manner, "is good time management."
His goal is to earn double degrees in biology and biochemistry in Spring 2010, then pursue his doctorate in the neurosciences and conduct research, possibly on the human brain.
"FSU has given me so much — the tools and the knowledge base to go into the scientific community and make a difference," Darkazalli said. "Most exciting? My research, especially because I'm at the forefront of neuroscience research, especially for an undergraduate."
Every semester, Florida State and its faculty offer numerous opportunities for undergraduates to join research teams. Darkazalli is paid a stipend for his work at the magnet lab, but he has also assisted on research with the College of Medicine for directed independent study credits.
Darkazalli was born in Texas and moved with his family to Clearwater where he graduated from Countryside High School. He can't remember a time when he wasn't interested in tackling health issues.
He has chosen extracurricular activities at Florida State that have given him an opportunity to not only grow his leadership skills but also to have an impact on the health of the FSU community.
"I love FSU and I want to spend as much time as I can giving back to it," he said.
Most of his volunteer work has been through the Thagard Student Health Center where he expanded his involvement as a peer health educator to include alcohol management (KARMA), sexual understanding (FSU TODAY) and student nutrition (SUNN). He also developed the Thagard Student Board of Trustees to provide suggestions for Florida State's peer health education programs and he served as the student representative on the building development committee for the new Health and Wellness Center.
"Ali is a gifted, charming, accomplished young man and a great role model," said Amy Magnuson, health promotion director and nutritionist at the health center. She estimates that Darkazalli has contributed nearly 700 hours to community service over the past two to three years.
He has made presentations at regional and national BACCHUS peer health network conferences and was honored with the regional BACCHUS Outstanding Student Award for Leadership for Promoting Healthy Behavior.
One of his noteworthy projects has been the Breathe Easy initiative, a volunteer policy that has grown to include seventy buildings on the Florida State campus. The zones delineate areas 20-50 feet from a building exterior as no smoking but also provide a designated smoking area.
In other words, Darkazalli said, students and faculty can go into a building without having to walk through the smoke generated by those who want one last cigarette before going to class.
"No amount of second-hand smoke is healthy, period," he said.