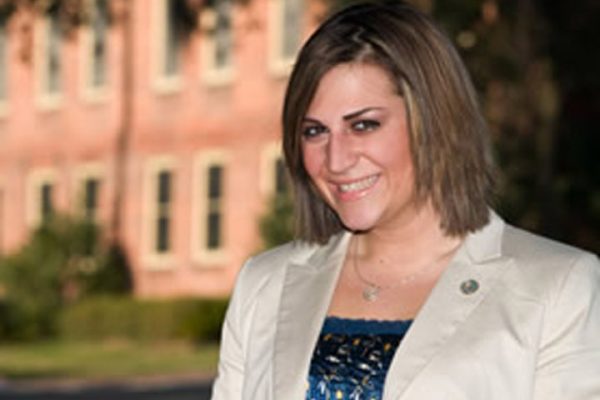 "In this age of expanding technology and constant global communication, the need for politicians to understand how their messages are projected and perceived is crucial."
"I have always been fascinated with politics because the decisions that politicians make, from the federal to the local level of government, have a daily impact on people," says Jackie Schutz, a senior who is carrying a double major in Political Science and Religion.
Why these two majors? Jackie says, "Religion and Political Science complement each other. In America, many people choose their political identity based on their religious views. Majoring in Religion has been one of my most memorable accomplishments at FSU. The faculty members in the Religion department are outstanding and have taught me much more than I ever expected."
Although her family supports the Democratic Party, Jackie decided to follow her "personal political ideals" by registering as a Republican and joining the FSU College Republicans. In 2004, she began a six-month internship with the Bush/Cheney presidential campaign. "While working at rallies and press events, I began to see democracy in action, quickly learning how a national campaign works, and how a candidate uses the media to convey his message to the electoral base."
Also in her freshman year Jackie interned for the Press and Communications Office of Governor Jeb Bush, a position that evolved into employment with the Office of External Affairs. "Through speaking with the media on a daily basis, I learned how reporters shape their stories. Writing media advisories and editing press releases enabled me to further understand how politicians convey their messages; this is where my desire to learn about political communications began."
A summer spent studying in London, through FSU's International Programs, peaked Jackie's curiosity about the British government. "As I walked through the majestic hallways of the Houses of Parliament on a class field trip, I knew I had to be a part of this rich tradition of the United Kingdom." Last May, International Programs made her dream a reality by granting her a three-month internship with Greg Hands, Member of Parliament for Hammersmith and Fulham.
During the summer, Jackie interned for President George W. Bush in the Office of Presidential Scheduling and Appointments. "Working in the White House with its rich and powerful traditions was exciting and invigorating. One of my most patriotic experiences was spending the 4th of July on the South Lawn watching the fireworks, and one of the most satisfying experiences was seeing my work contribute to the operation of the office of the President."
Following graduation, Jackie will return to England to begin her studies at the London School of Economics to develop expertise in the interrelationship between politics and communications. Says this future press secretary, "In this age of expanding technology and constant global communication, the need for politicians to understand how their messages are projected and perceived is crucial."