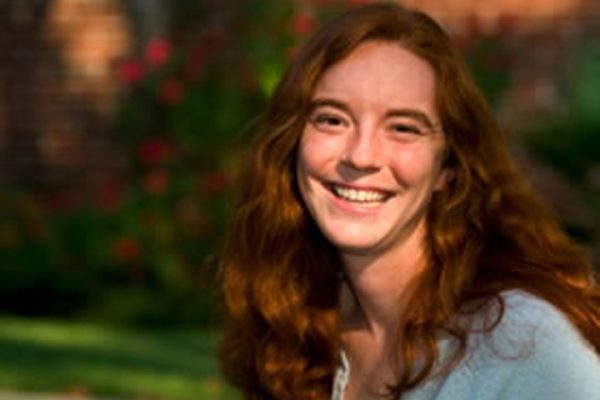 "Community service is something I feel called to do by a faith that inspires anger at injustice."
"I am interested in a global perspective because I am appalled at the disparity between the country I was born into and the majority of the world. I want to use the blessings and privileges I have been given to work in partnership with people who are willing to work for change," says Mary Grant-Dooley, a senior who is carrying a double major in International Affairs and English Literature.
Mary's first foray to another country was during the International Program's inaugural program to Australia. "My best friend Hilary O'Neil and I hostel-hopped through New Zealand and hiked a glacier before meeting the FSU group in Sydney. We spent a week in museums and day trips to small beach towns before heading north to tropical Cairns. With a climate similar to South Florida, humid and hot even in winter, we felt quite at home, except that we would not have been zipping through a rainforest, snorkeling on the Great Barrier Reef, eating termites (good for digestion), or learning from an Aborigine how to throw a boomerang correctly."
She's now preparing for her second study abroad trip—to France—by increasing her knowledge of the French language and culture. She is a member of the Pi Delta Phi French Honor Society, and for the past year she has served as co-president of La Table Francaise, a conversation club for those interested in improving their French language skills. "We're a group of about ten students with all skill levels. To get discussions going, we incorporate films, newspapers, novels, music, and food."
A superb student (President's List the previous four semesters), Mary understands the importance of an education. And, she says, "Having been a part of the Presbyterian Church since I was two, I was brought up learning about Jesus, a person who humbly served his community. Community service is something I feel called to do by a faith that inspires anger at injustice.
"America Reads has provided me an outlet for weekly service that I cherish. I enjoy interacting with the kids and helping them with their homework. I was blessed to have parents who were there when I got home from school, who wanted to hear about my day, and help me with my homework. I am thankful to be that listening ear and helper for others.
"Challenger Swim has taught me that enthusiasm trumps skills. I felt unqualified, never having been on an official swim team or taught swimming, much less to mentally handicapped children. It was a joyous surprise to find that simple encouragement has an impact. These kids have short attention spans and a need for constant affirmation, so as a volunteer I cheer them along in what is sometimes the only exercise they get.
"After graduation, I hope to enter the Presbyterian Church's Young Adult Volunteer Program for a year of overseas mission work, or to intern with the Presbyterian Peacemaking Program at the United Nations' liaison office in New York."