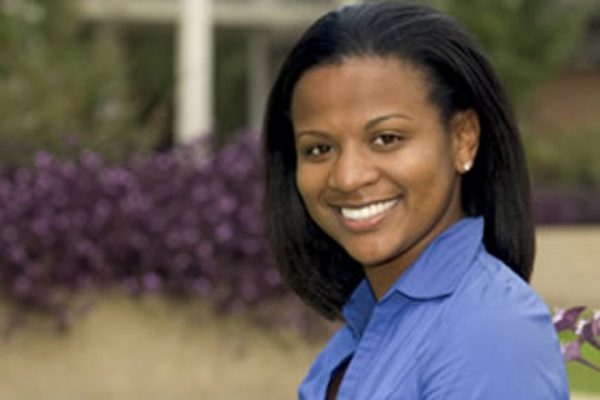 "High school curriculum needs to be sensitive to students with special needs, those with limited English proficiency and emotional and physical disabilities, without ostracizing them."
"I have always wanted to teach high school students," says Dominique Gehy, who attended a dual-enrollment program at Miami's School for Advanced Studies, obtaining her high school diploma and an Associate in Arts degree at the same time.
Fascinated by "the way Math comes full circle, with, usually, one right answer," Dominique chose to major in Mathematics Education, and she chose Florida State because of the "efficient and helpful staff, the scholarships that were offered, and the realization that the move from home would be very healthy" for her.
One particular professor serves as an inspiration—Kathleen Clark, assistant professor of Middle and Secondary Education. "She taught my History of Mathematics class her first year teaching at FSU," says Dominique. "I thought I would dislike it; however, Dr. Clark's knowledge and passion for the subject caused me to think about it more deeply. She continually reminds me that there is no limit to acquiring knowledge."
It shows in Dominique's superior academic performance; she's appeared frequently on the Dean's and President's Lists, while also gaining valuable classroom experience. Through the America Reads program, she has mentored elementary students in the Griffin Heights neighborhood. Currently, she is observing an English class at Godby High, as well as assisting a Florida High Math teacher.
Born in Haiti and educated in the U.S., Dominique simultaneously learned English and Creole. As a result of her background and growing up in metropolitan Miami, she is especially sensitive to the struggles facing those whose first language is not English. Thus, she became involved with the Center for Intensive English Studies as a conversation partner to help students improve their English language skills.
After graduation in the spring, Dominique plans to "spend a few years in the classroom" to increase her first-hand knowledge and experience, while also attending graduate school for a master's in Educational Leadership. She explains, "I must move up to the administrative level to reform the curriculum. High school curriculum needs to be sensitive to students with special needs, those with limited English proficiency and emotional and physical disabilities, without ostracizing them. It is also important that technology be added to all schools, regardless of their socioeconomic status, so that every student has the same opportunity after graduation."